A message from EatThePlanet.org: "
We are happy you found us! We strive to be informative and accurate. Enjoy what you find here! Take a look at our new downloadable pdf eBook A Complete Guide To Foraging. We put a lot of work into this eBook and are very excited to share it with you.
" - Joe Forager(Owner)
---
Wild strawberries (Fragaria) glow like ruby red jewels at the edges of woodlands, hay fields and meadows in North America. Ripening in the first few weeks of full summer sunshine, they're a true treat to find whilst out hiking local trails and wandering across mountain slopes.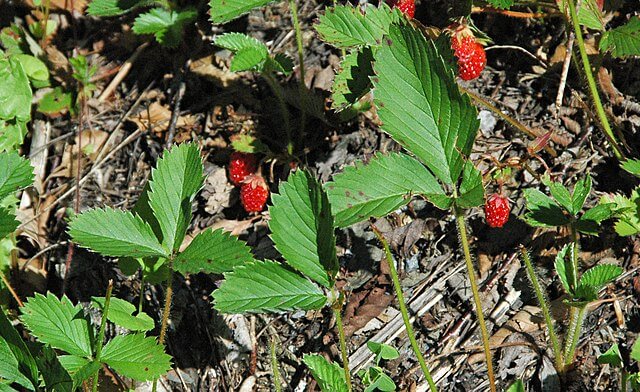 As with any type of foraging, it's important to be cautious when identifying plants, particularly wild berries. Whilst wild strawberries have a very unique appearance compared to wild grapes (Vitis) or wild blackberries (Rubus), they do have a lookalike.
The berries of the Mock Strawberry (Potentilla indica) are very similar, and glow ruby red when ripened in summer sunshine too… So how do well tell them apart? And are they toxic?
What are Mock Strawberries?
Known as the Mock or False Strawberry, these plants have many similar characteristics to wild strawberries in North America, including the true native wild strawberry of the US (Fragaria virginiana). They also share similar distribution ranges and areas of habitat too, so they can be a common find when you're hunting for wild strawberries.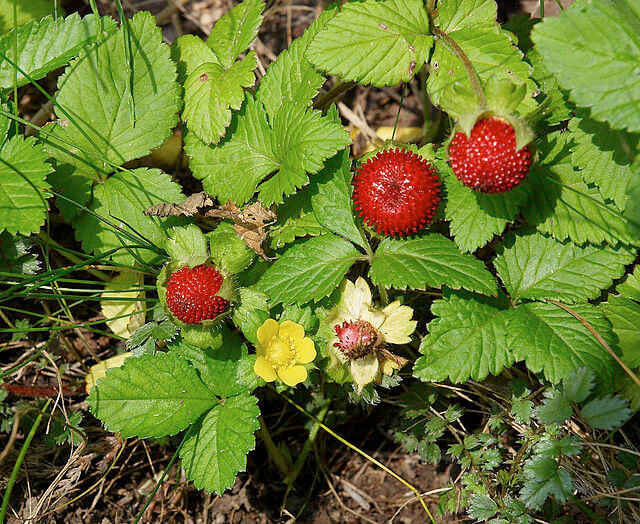 Mock strawberries can be found creeping at the edges of forest clearings or even low growing in your garden lawn, often cropping up in unexpected places. They're particularly hardy, and with their trailing runners, they can spread quite quickly.
What do Mock Strawberries look like?
The main differences between mock and true wild strawberries are their petal color, seed positioning, and berry taste. Both wild and mock strawberries have trifoliate leaves with toothed edges, and both are low growing.
The seeds within mock strawberries protrude from the berry flesh much more than with a true strawberry. Plus, they are also often more round in shape, than the slightly more conical shape of wild strawberries.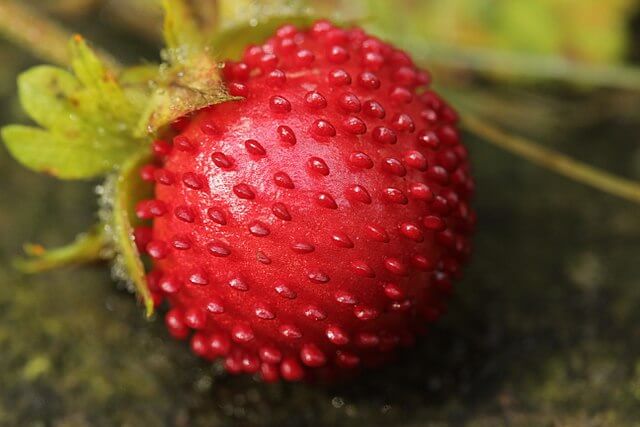 Mock strawberry petals are yellow with a yellow center, which is easy to distinguish from the white petals and yellow centers of true wild strawberries.
If no flowers are present, one other slight difference is that wild strawberries tend to dangle in little clumps, hiding under leaves. Whereas mock strawberries sit on more upright stems.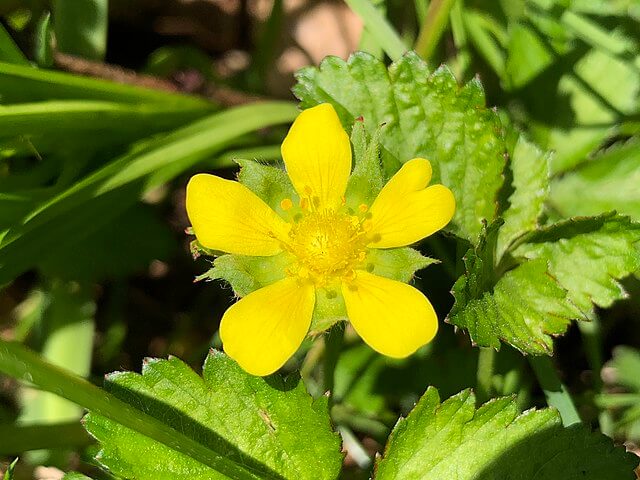 Are Mock Strawberries Native to the US?
Whilst mock strawberries are now well established and naturalized in large parts of the US, they're not native. They're endemic to areas of southern and eastern Asia, but were traded and transported because of their potential medicinal value. Their leaves were often used to create a poultice for skin conditions like eczema, and also bites and burns.
Are Mock Strawberries Safe to Eat?
These little berries are thankfully edible and pose no threat of toxicity when eaten. With both wild and mock strawberries having a number of similarities, it's reassuring to know that a misidentification wouldn't be the end of the world. However, one particularly notable difference is the flavoring.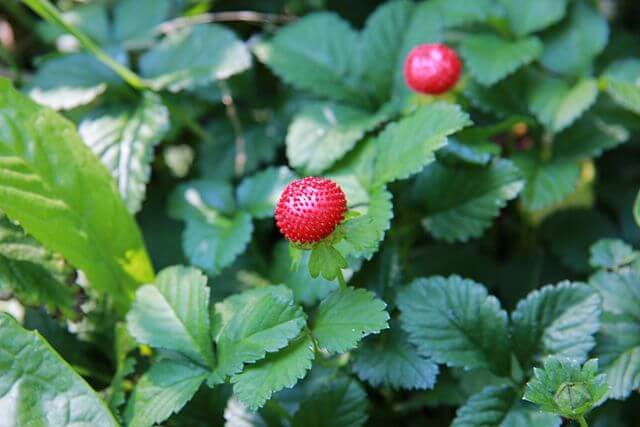 What Do Mock Strawberries Taste Like?
Mock strawberries are not quite as tasty as true American wild strawberries… They don't have the same juicy burst that you would expect from a true strawberry. They're a little drier, with a slightly bitter or 'watery' taste. With some comparing the flavor to a bitter cucumber, or watermelon, and even describing them as tasteless.
There have been accounts of allergic reactions to mock strawberries, but just like the humble strawberry (and many food items), allergic reactions always pose a very small risk.
Wild Strawberry Species in the US
Armed with the knowledge to single out a mock strawberry from a true wild strawberry, you may also want to know how to identify different strawberry species that you find in the wild. There are roughly 20 different Fragaria species found around the world. Each a member of the rose family. Several wild strawberry species reside in North America, from the Woodland Strawberry (Fragaria vesca) to the Beach Strawberry (Fragaria chiloensis). Each has their own minor differences, which you can read about here.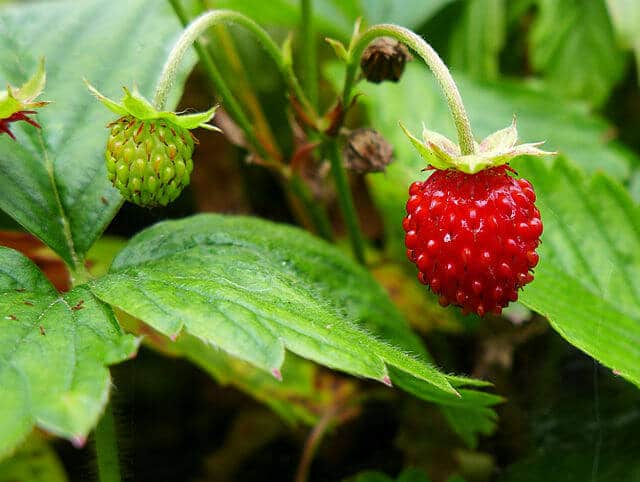 Foraging Wild Strawberries
A quick and simple test to identify if you've stumbled upon a patch of wild or mock strawberries is to crush a berry and see if you can catch the powerful, fruity scent of strawberry. Mock strawberries will have a bland, watery scent, whereas true wild strawberries will be unmistakeable.
As with any wild food, make sure not to over harvest any patch of strawberries that you find. The plants spread via runners, but also through their viable seeds too, so make sure to leave some fruits behind. Plenty of wildlife consume wild strawberries too, so leave fruits behind for birds, small mammals and even insects.
Wild strawberries are not only a great plant to forage, they're also a wonderful plant to grow at home. They can sit beautifully within borders, with the added benefit of sweet, little fruits, come summer time.
—————
Written by Hannah Sweet
Hannah is a freelance writer and graphic designer from the UK. With a penchant for travelling, photography and all things botanical, she enjoys writing about a wealth of topics and issues, from conservation and slow living, to design and travel. Learn more about her writing and design services at www.sweetmeanders.co
Many of our readers find that subscribing to
Eat The Planet
is the best way to make sure they don't miss any of our valuable information about wild edibles.
Like our facebook page
for additional articles and updates.
Follow us on Twitter
@EatThePlanetOrg
See our privacy policy for more information about ads on this site