A message from EatThePlanet.org: "
We are happy you found us! We strive to be informative and accurate. Enjoy what you find here! Take a look at our new downloadable pdf eBook A Complete Guide To Foraging. We put a lot of work into this eBook and are very excited to share it with you.
" - Joe Forager(Owner)
---
Panax quinquefolius or Panacis quinquefolis, known to many as American Ginseng, is rocketing into the limelight as a hugely popular herb. Wild American ginseng holds great value within China, particularly the most gnarled and intact specimens. Its popularity is actually creating tense situations throughout the Appalachian ranges as criminals and thieves steal from reputable growers and farmers. It is native to North East America, however due to its popularity it is now grown commercially in many countries, particularly China.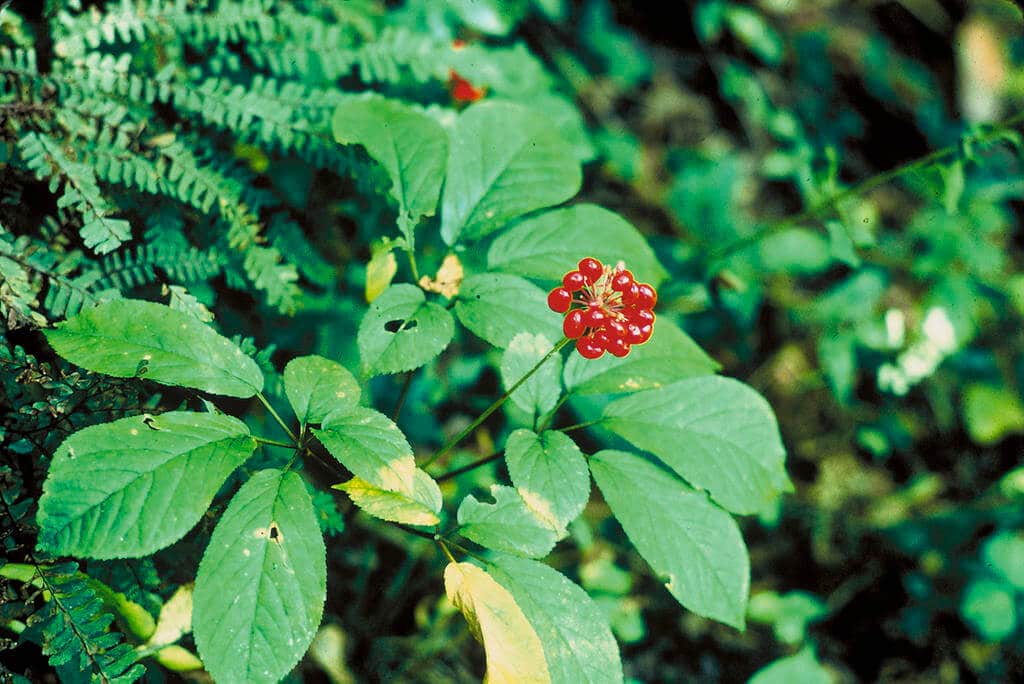 It is a perennial plant, that is also a member of the ivy family. With a shape not too dissimilar from root vegetables, like parsnips and carrots. Ginseng roots form bulky, long forked taproots that sit protected within the soil. Bright green, ovate leaves sprout from the thin stalks, with bright red berries forming in the fall. Ginseng lacks a woody stem, meaning it fully dies back within the winter. It can be found growing in shaded and moist areas of hillsides and mountainous forests.
Cultivation
As a wild plant, its optimal growing conditions are hard to replicate within a domestic garden. Many farmers and growers choose to plant and maintain ginseng within a patch of wild land on their property as it improves the overall quality of the ginseng and allows it to be marketed as a wild variety.
You can grow ginseng from seeds, however a stratification process is necessary for the seed to prepare itself for growth. Patience is key, as plants can take up to 10 years to mature. Take a look at a previous post for tips on how to cultivate your own ginseng.
Canada is the country which currently grows the highest amount of American ginseng crop, closely followed by China. Wisconsin grows almost 80% of the total US crop of American ginseng.
Toxicity and Cautions
Wild ginseng has been recorded as causing some health issues if consumed in great amounts for a long period of time. Other minor symptoms can be experienced when taking ginseng, including nausea, insomnia and abnormal changes in blood pressure.
Many people choose to take ginseng to provide a boost of energy, improve cognitive function or even treat Alzheimer's disease. These claims however are not fully supported by science, so any consumption of ginseng for medical purposes should be greatly limited.
Foraging and Identification
Fall is the best time to go foraging for wild ginseng, its bright red berries are a great guide in helping you to identify the plant. It is important to note that many other plants and shrubs may bear red berries at this time, so next you need to ensure you can identify the leaves. The bright green leaves are serrated and protrude from the base of the plant on thin green stalks that emerge from a central stem. A good rule of thumb is to not harvest a plant unless it has 3 stems or more, as this helps to signify the maturity of the plant. Typically a patch of wild ginseng will have plants at different stages and ages, from 1 to 4 leaf stems.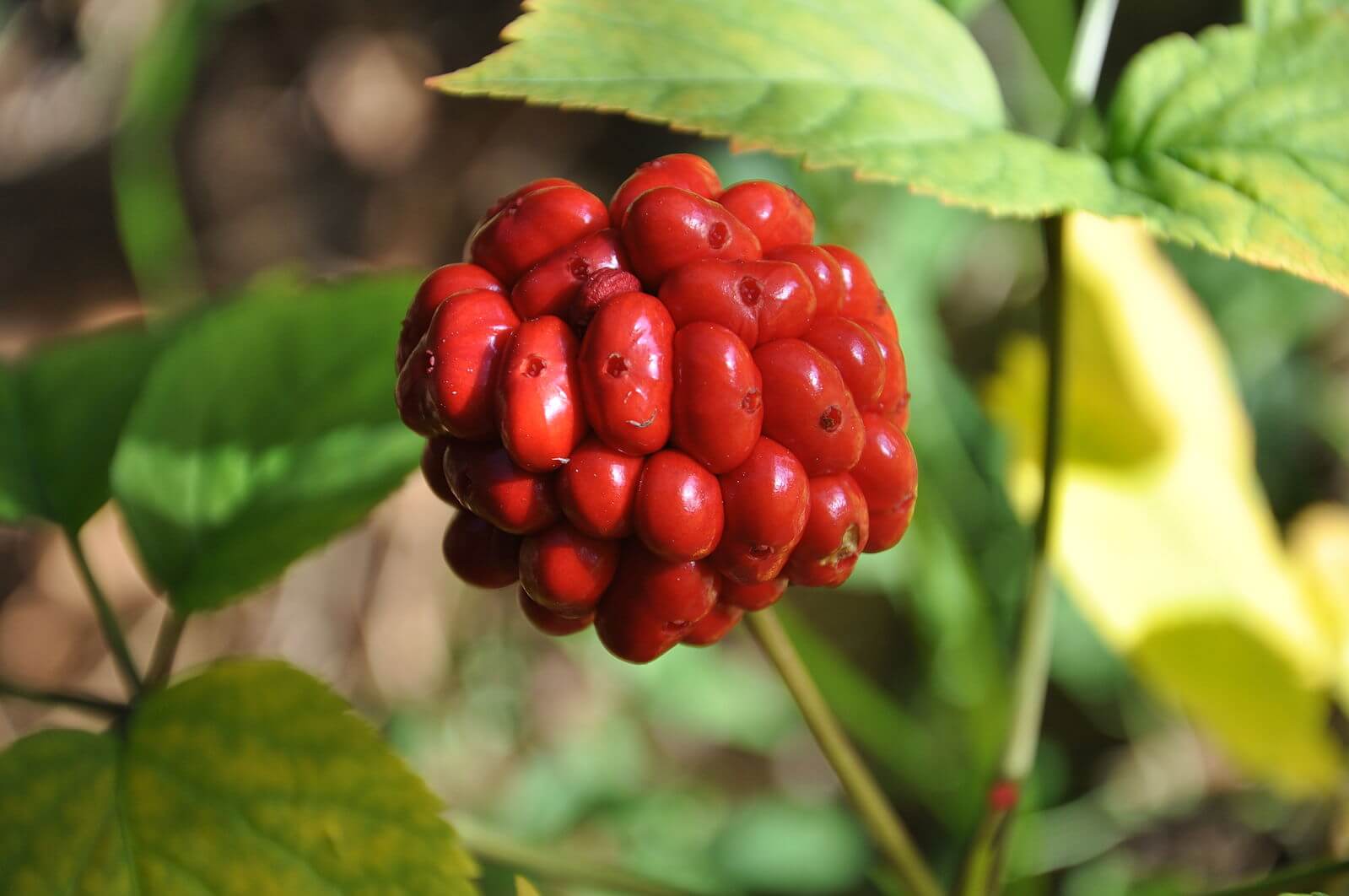 History
Wild ginseng has long been used by native American tribes within their herbal remedies and concoctions. It was consumed to promote health, increase libido and to heal and cure many health problems. Female infertility, digestive issues and headaches were often treated with a ginseng remedy.
Wild ginseng was first introduced to European settlers in the 1700's. The plant was harvested initially in Canada and exported by French explorers, however when sources began to deplete, tradesmen looked to the US where stories had emerged of the Cherokee using the roots within medicines.
Current situation of Wild Ginseng
With illegal harvesting, foraging and exporting, wild ginseng is causing quite a stir due to its perceived value. It is hugely popular within China, where it is seen to be a sweeter and a more valued herb than the native ginseng (Panax ginseng). Many stories are emerging from US farmers who catch thieves in the act of stealing from their cultivated patch of wild ginseng, to sell the plants on a black market. One pound of wild ginseng is said to reach almost $8000 in value in China, which explains some coined nicknames including 'golden root'. Cultivated ginseng however, which is thought to contain less active ingredients, is valued at closer to $250.
Many US wildlife experts worry about this popularity surge and what it can mean for population numbers. It is hard for them to maintain accurate numbers, however those who harvest the plant regularly have noticed an immense drop in the availability and also the size of the plants that are being found in the wild.
Illegal and over-harvesting are not the only issues effecting wild ginseng. They are also experiencing great habitat loss and destruction. Air and environmental pollution, as well as a warming climate are thought to also threaten population numbers. Wild ginseng is now considered an endangered species in the states of Kentucky, Illinois and Virginia.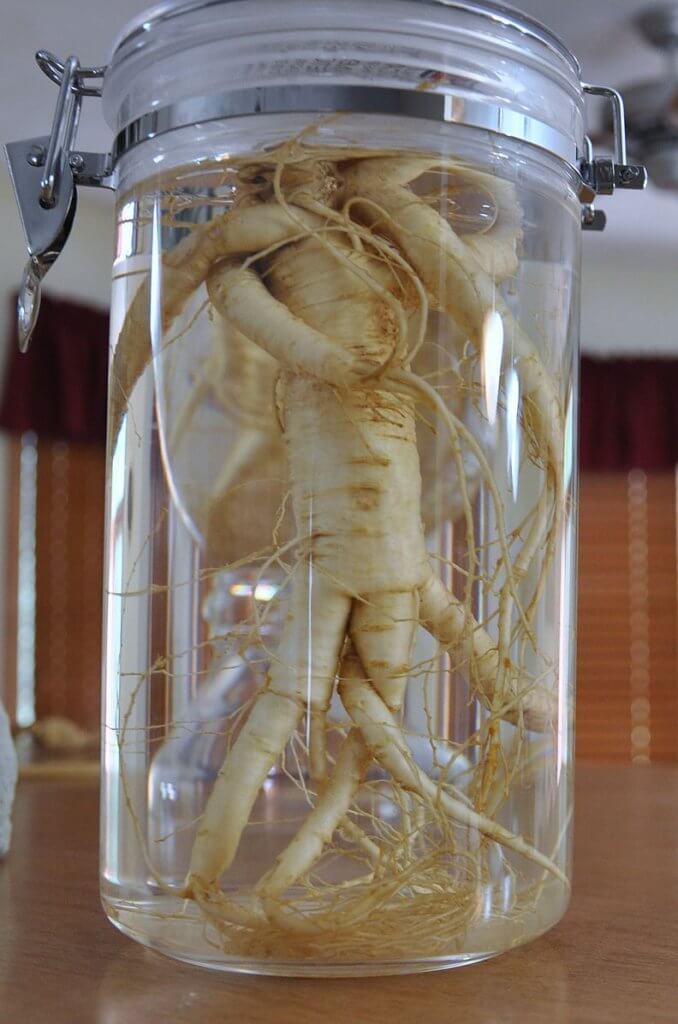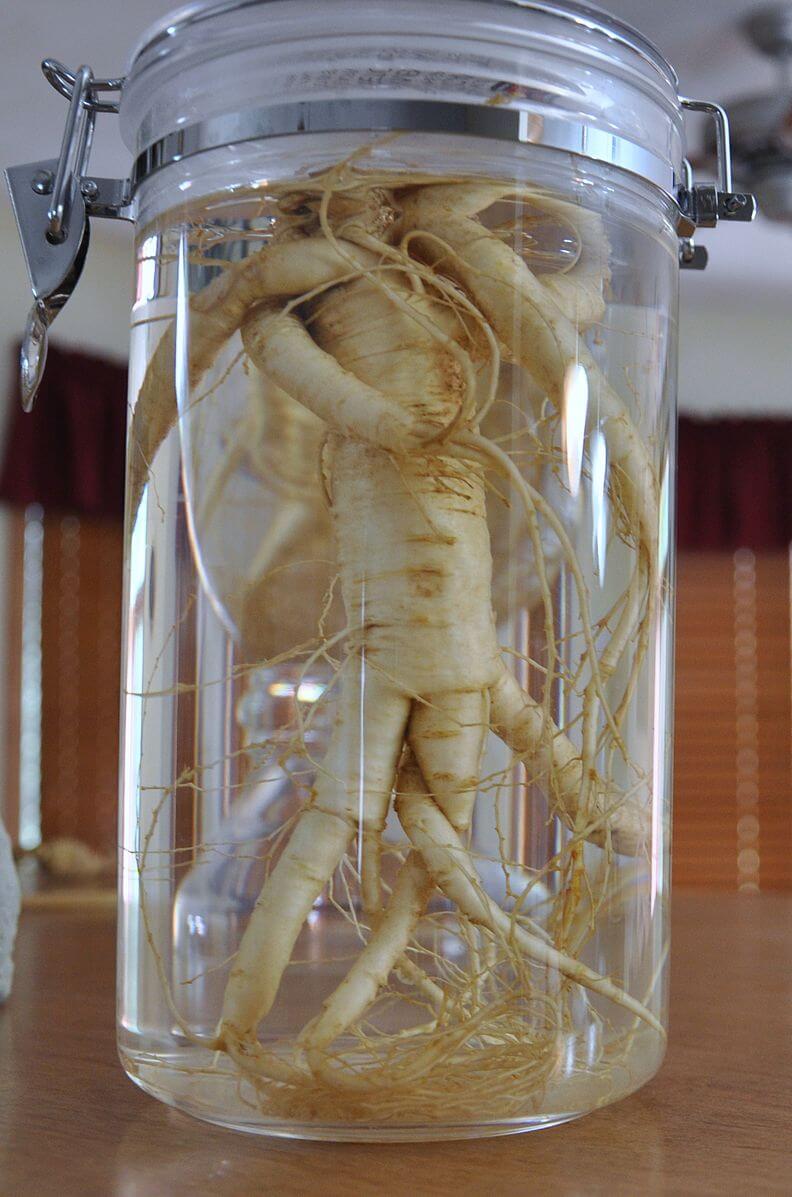 Did you know…
The most gnarled, wild ginseng roots are not generally purchased for use in culinary dishes or medicines in China, instead they are preserved within display jars and vials. They are then given as gifts of good will and good fortune, to individuals or businesses. The wild and gnarled shape of the taproot, when expertly foraged and fully intact, is said to display great strength in overcoming adversity and the problems that life may throw at you. This is because the plants root within very rocky, mountainous conditions that other plants could not overcome.
Conclusion
Wild ginseng can be a fantastic herb to cook with, especially within many Asian cuisines, particularly Korean and Chinese dishes. Chicken broth soups are a particularly popular dish that ginseng pairs well with. However with its current popularity, it may be unlikely for you to find a patch of wild ginseng that has not already been harvested. Growing your own or purchasing legally grown wild or commercial ginseng is the best way to experience the benefits of this herb without having a big impact on its wild population.
—————
Written by Hannah Sweet
Hannah is a freelance writer and graphic designer from the UK. With a penchant for travelling, photography and all things botanical, she enjoys writing about a wealth of topics and issues, from conservation and slow living, to design and travel. Learn more about her writing and design services at www.sweetmeanders.co
Many of our readers find that subscribing to
Eat The Planet
is the best way to make sure they don't miss any of our valuable information about wild edibles.
Like our facebook page
for additional articles and updates.
Follow us on Twitter
@EatThePlanetOrg
See our privacy policy for more information about ads on this site