A message from EatThePlanet.org: "
We are happy you found us! We strive to be informative and accurate. Enjoy what you find here! Take a look at our new downloadable pdf eBook A Complete Guide To Foraging. We put a lot of work into this eBook and are very excited to share it with you.
" - Joe Forager(Owner)
---
Features of Banana Leaves
The huge leaves of the banana plant are used in cooking and cultures all around the world. The deep roots of the Japanese banana plant manage to stay alive below the frost line, allowing the plant to live in cold climates. After each winter season the tree grows to full size again, an astonishing 10-15 feet by the end of the summer, with the leaves reaching up to 6 feet long and 18 inches wide. For more information on the hardy Japanese banana plant see our article.
Banana leaves are used around the world to wrap up meals and steam them inside the leaves. They are often used to steam fish with other veggies or spices, and often used to make different types of meat and veggie stuffed doughy meals. Mexican Tamales, South American Pasteles, Indian Idlis, Filipino Bibingka, and many more recipes use banana leaves.
Health Benefits of Banana Leaves
Banana leaves contain antioxidants found in many plants and green tea called polyphenols. So cooking your food in this manner infuses your meal with additional antioxidants, as well as imparting flavor.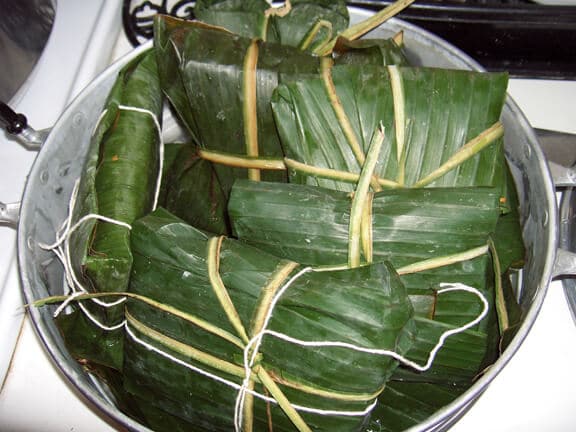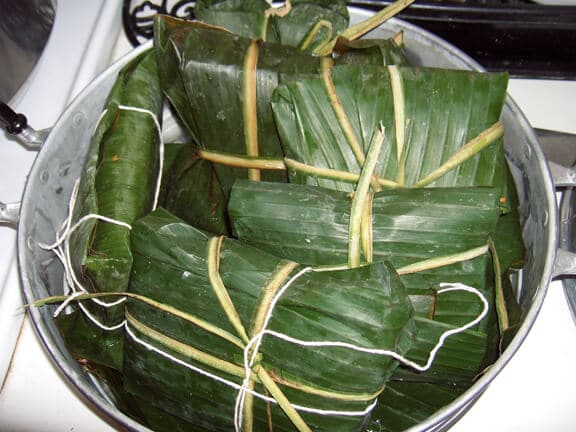 Tamales Wrapped in Banana Leaves
Tamales wrapped in banana or plantain leaves is common cuisine in Mexico and Central America. It can be a very long and involved process, so it is often a social event where several dozens are made at a time. The vegetarian filling can be substituted with pulled pork, shredded chicken, chorizo or carnitas. This recipe makes about 12 tamales, but you can easily scale it up and freeze the extras, as tamales freeze well.
Ingredients
1 lb fresh hardy Japanese banana leaves
2 lbs vegetarian or non-vegetarian prepared masa
Chile Sauce:
3 pablano chiles
1 medium garlic clove
1/4 tsp ground clove
Ground pepper
Salt
1 tbsp olive oil
Vegetable Filling:
1-2 tbsp olive oil
1 large carrot
1/2 red onion
4 medium garlic cloves
2 zucchinis
2 plum tomatoes
1 cup spinach leaves
Salt
12 oz Pepper Jack cheese
Directions
To prepare Banana Leaves:
1. Cut away thick edges of leaves.
2. Cut and remove central stem and rinse if using fresh leaves.
3. If leaves are brittle, carefully hold over lit gas burner or hot pan for a few seconds, until softened.
4. Dry leaves with towel or paper towels.
5. Cut leaves into 12 (8 inch x 10 inch) rectangles.
6. Cut extra leaves for steaming.
7. Set aside.
To prepare Chile Sauce:
1. Heat large sauté pan over medium heat.
2.Make a slit down the side of each chile using sharp knife.
3. Use tongs to open and place chiles open-side down in hot pan. Press with metal spatula for 10 seconds.
4. Turn over and cook another 15 seconds, until softened.
5. Add chiles and 1 1/2 cups warm water to blender.
6. Peel and add garlic, clove, and salt and pepper to taste. Blend 1-2 minutes, until smooth.
7. Pour blended chile sauce into sauté pan.
8. Heat pan over medium heat. Bring sauce to a simmer.
9. Add olive oil. Simmer for 10 minutes.
10. Remove from heat and set aside.
To prepare Vegetable Filling:
1. Add olive oil to extra large sauté pan. Heat over high heat.
2. Peel and chop garlic and onion. Chop carrots, zucchini and tomatoes.
3. Add garlic, onions and carrots to hot oil. Sauté for 2-3 minutes, stirring frequently with wooden spoon.
4. Add tomatoes and zucchini. Sauté for a 2 minutes.
5. Add spinach leaves and salt to taste. Stir until wilted, about 1 minute.
6. Remove from heat.
7. Add 1/2 cup chile sauce to pan.
8. Set aside.
9. Cut cheese into strips 3 inches long and 1/2 inch wide.
To assemble Tamales:
1. Lay down cut banana leaf, lighter, smoother side up.
2. Place a 1/3 cup prepared masa in the center of leaf. Press down with palm or wide wooden spoon to lightly spread.
3. Add 3/4 teaspoon chili sauce over masa. Add cheese.
4. Add 1/3 cup sautéed vegetables.
5. Fold longer sides of banana leaf over, tucking one edge under the other. Fold shorter sides under tamale to make snug package.
6. Tie with kitchen string to secure.
7. Repeat with remaining ingredients.
To cook Tamales:
1. Place steamer rack or wire cooling rack in bottom of extra large stockpot with lid.
2. Add water to pot until it almost reaches but does not touch the rack.
3. Cover rack with extra banana leaves.
4. Place tamales on rack in single layer, then cover with layer of banana leaves.
5. Cover last layer of tamales with banana leaves. Cover pot with lid.
6. Heat over high heat to bring to boil. Reduce heat to a simmer.
7. Cook for 45-60 minutes.
8. Use tongs to remove tamales. Use knife to cut kitchen string.
9. Carefully unwrap tamales from banana leaf.
10. Enjoy.
Many of our readers find that subscribing to
Eat The Planet
is the best way to make sure they don't miss any of our valuable information about wild edibles.
Like our facebook page
for additional articles and updates.
Follow us on Twitter
@EatThePlanetOrg
See our privacy policy for more information about ads on this site