A message from EatThePlanet.org: "
We are happy you found us! We strive to be informative and accurate. Enjoy what you find here! Take a look at our new downloadable pdf eBook A Complete Guide To Foraging. We put a lot of work into this eBook and are very excited to share it with you.
" - Joe Forager(Owner)
---
The American Cranberrybush (Viburnum trilobum) is a deciduous shrub that produces small edible, ruby red berries in the fall. Whilst the fruits greatly resemble cranberries, they are in fact of a completely different species. Both the American cranberry (Vaccinium macrocarpon) and American cranberrybush share a native range. However they are not as closely related as the name might suggest. The American cranberry is a fairly low lying and creeping shrub, whereas the cranberrybush forms a more rounded bush. Only the berries are moderately similar in both species, with a similar appearance and also taste.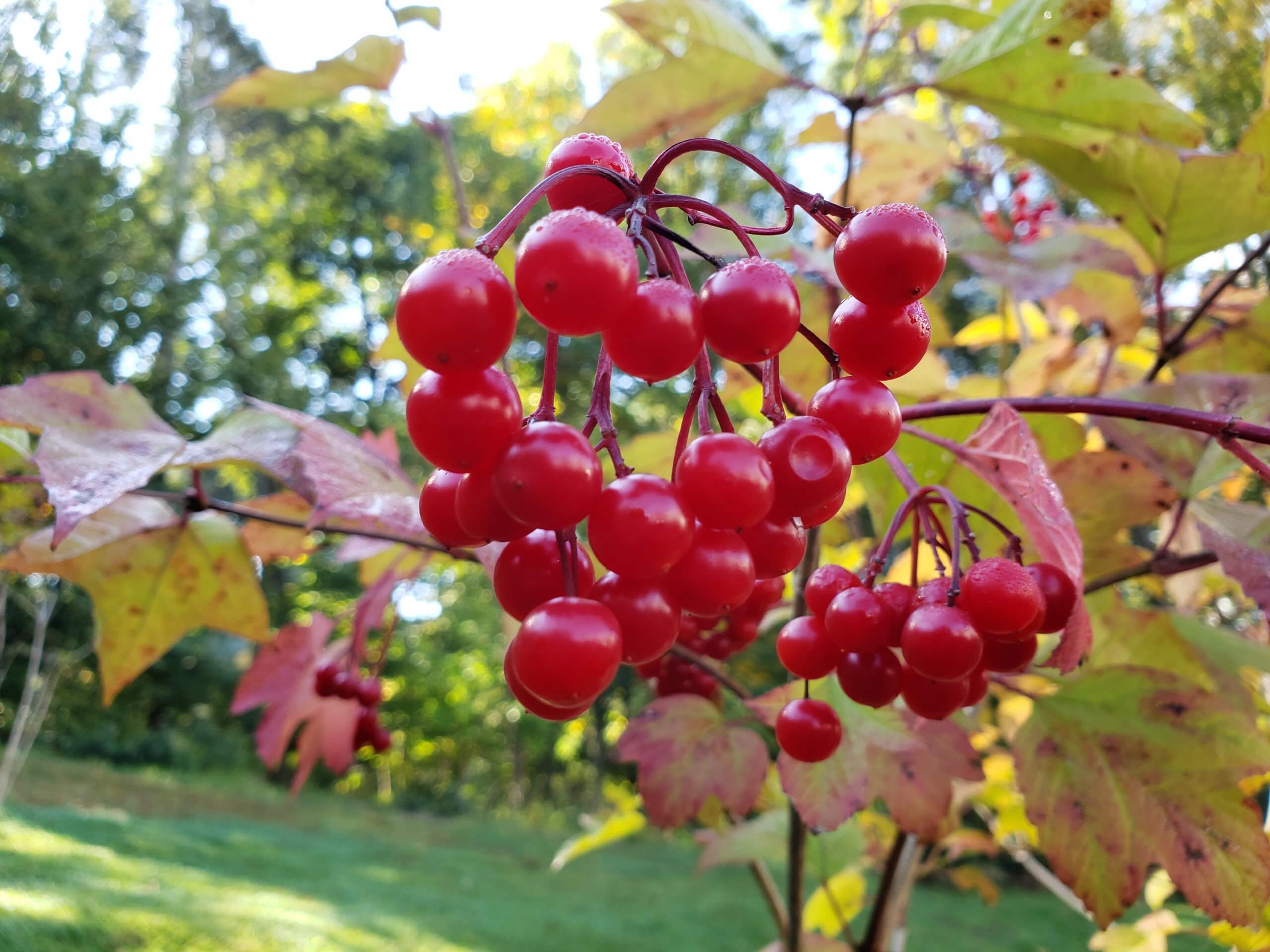 You may be familiar with American cranberrybush by a number of other names, including high bush cranberry and cranberrybush viburnum. It's a northern native, with its main range stretching from the East coast to as far inland as North Dakota.
A European species (Viburnum opulus), also known as Guelder Rose, is almost identical to the American cranberrybush. It was introduced into the US as a garden ornamental. However with seed dispersal from native wildlife, it is now established in the wild across the northeastern states too. Both species favour moist and well draining terrain and sunny locations with a little partial shade. In the wild you'll likely discover them at the edges of thickets, bogs, swamps and low lying woodland.
It is listed as endangered, threatened or rare in a number of states in the northeast. Mainly due to loss of habitat, from disappearing wetlands due to road or building construction. This in turn causes a fragmented population, making it harder for cross pollination between individuals. As well as the European species being a direct competitor for space and habitat.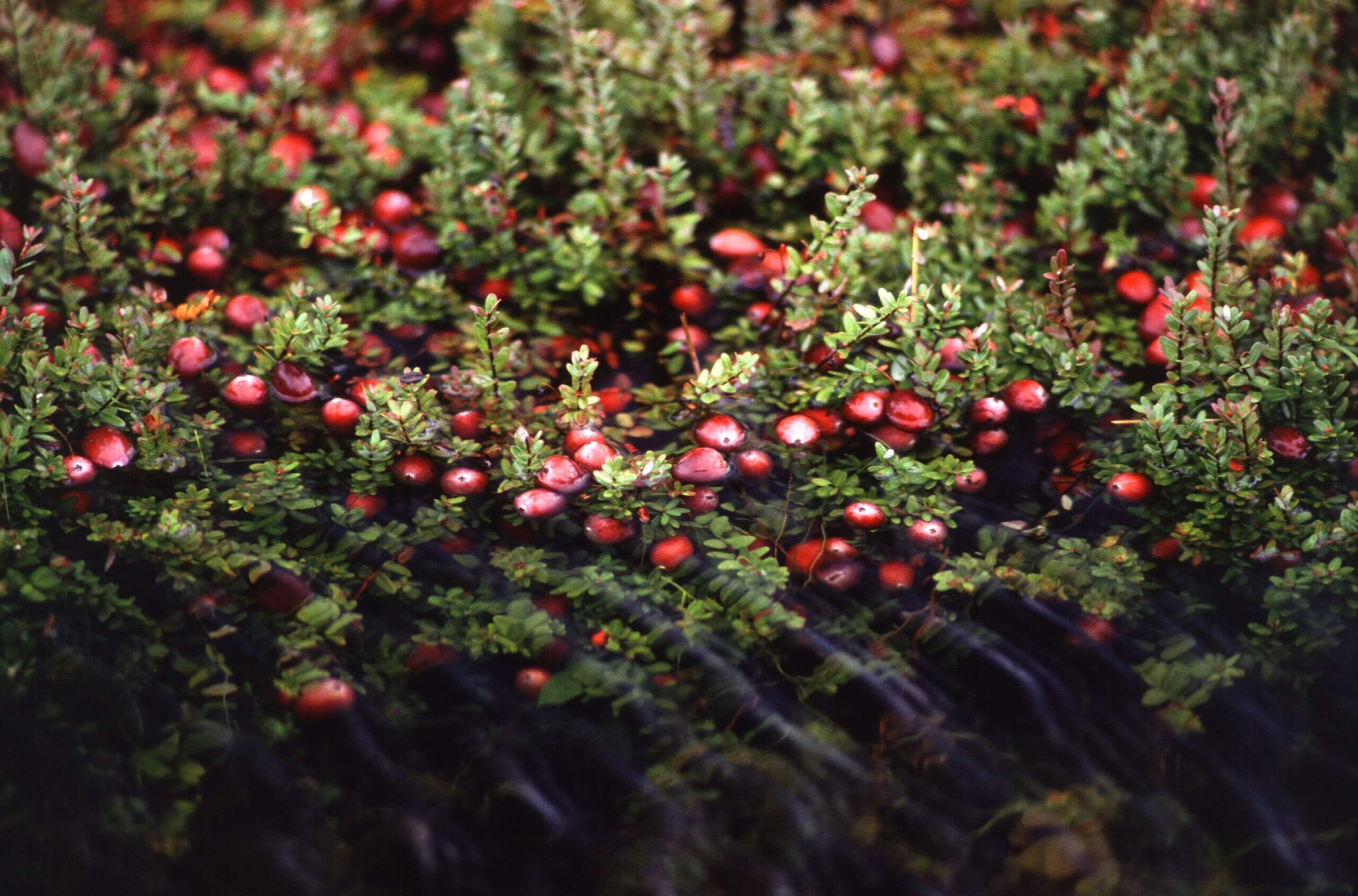 Identification
The American Cranberrybush is incredibly similar to the European species, with some individuals even choosing to classify the American bush as a subspecies (Viburnum opulus L. var. americanum). However there are small differences which will allow you to distinguish between the two. The petiolar glands (right next to where the leaf joins to its stem) tend to be taller and more rounded in the American cranberrybush. While the European variety has shorter, more indented or 'concave' looking petiolar glands.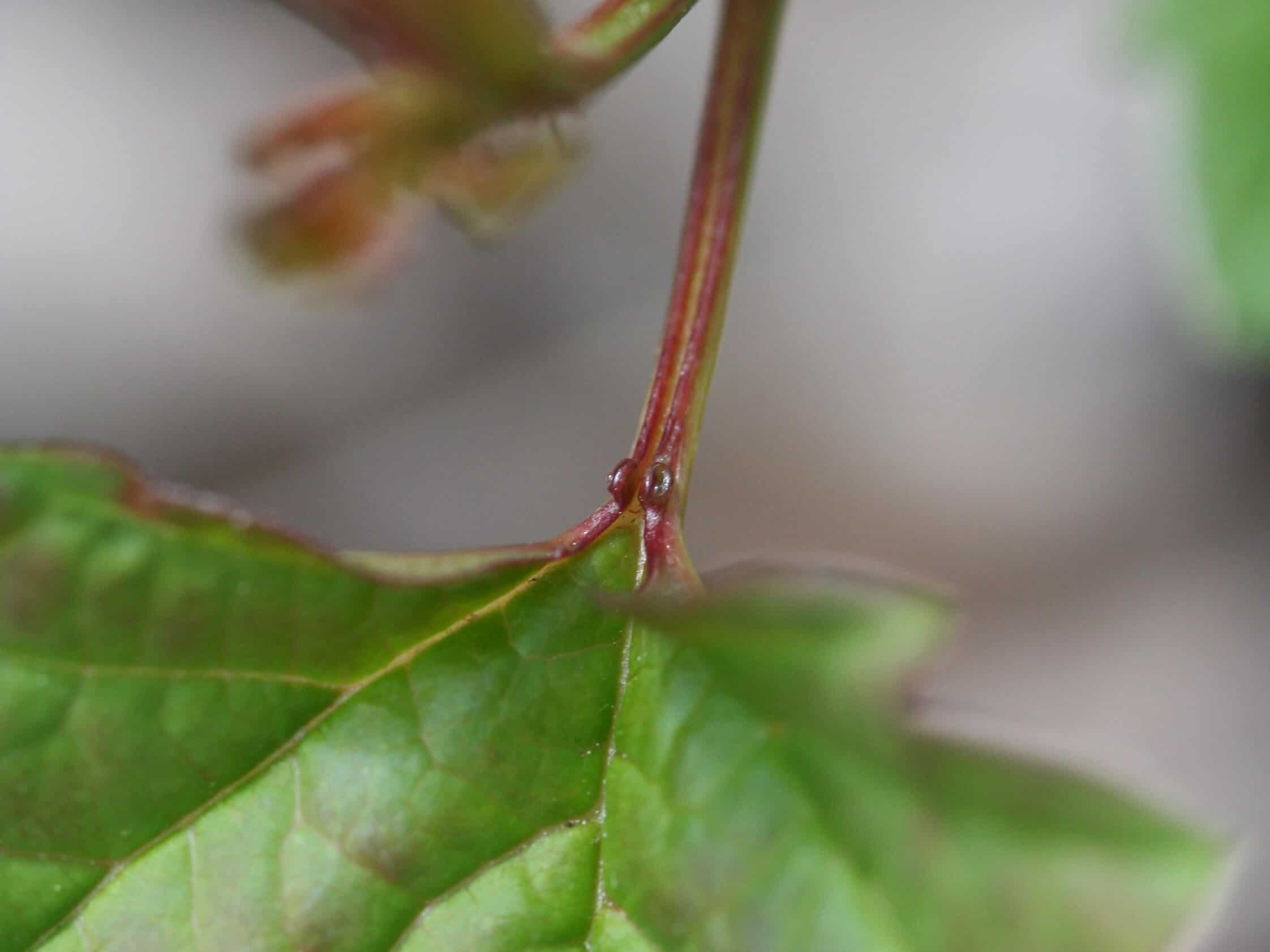 Another method to distinguish between the two could be a taste test. The American cranberrybush is said to have a more pleasant flavoring. So if you are looking to plant your own bush for harvesting, make sure to double check that it's a true native American cranberrybush!
In general, both species bear very similar characteristics. Their berries ripen in the fall, and stay on the shrub throughout the winter. Providing a vital food source for the native wildlife. They're very rounded shrubs, reaching a maximum height of roughly 12ft and a diameter of 10ft. The bark is a deep gray, with red tinged stems holding the almost maple shaped, wrinkly leaves. During the spring, bright white flowers appear on umbels, developing at different speeds, creating a delicate 'laced' look. These umbels eventually develop into a cluster of small, bright red berries. As the colder temperatures descend, the leaves will move through a mesmerizing display of fall colors. In winter the leaves will drop and only the berries will remain, creating a beautiful flash of contrasting color, especially against the snow.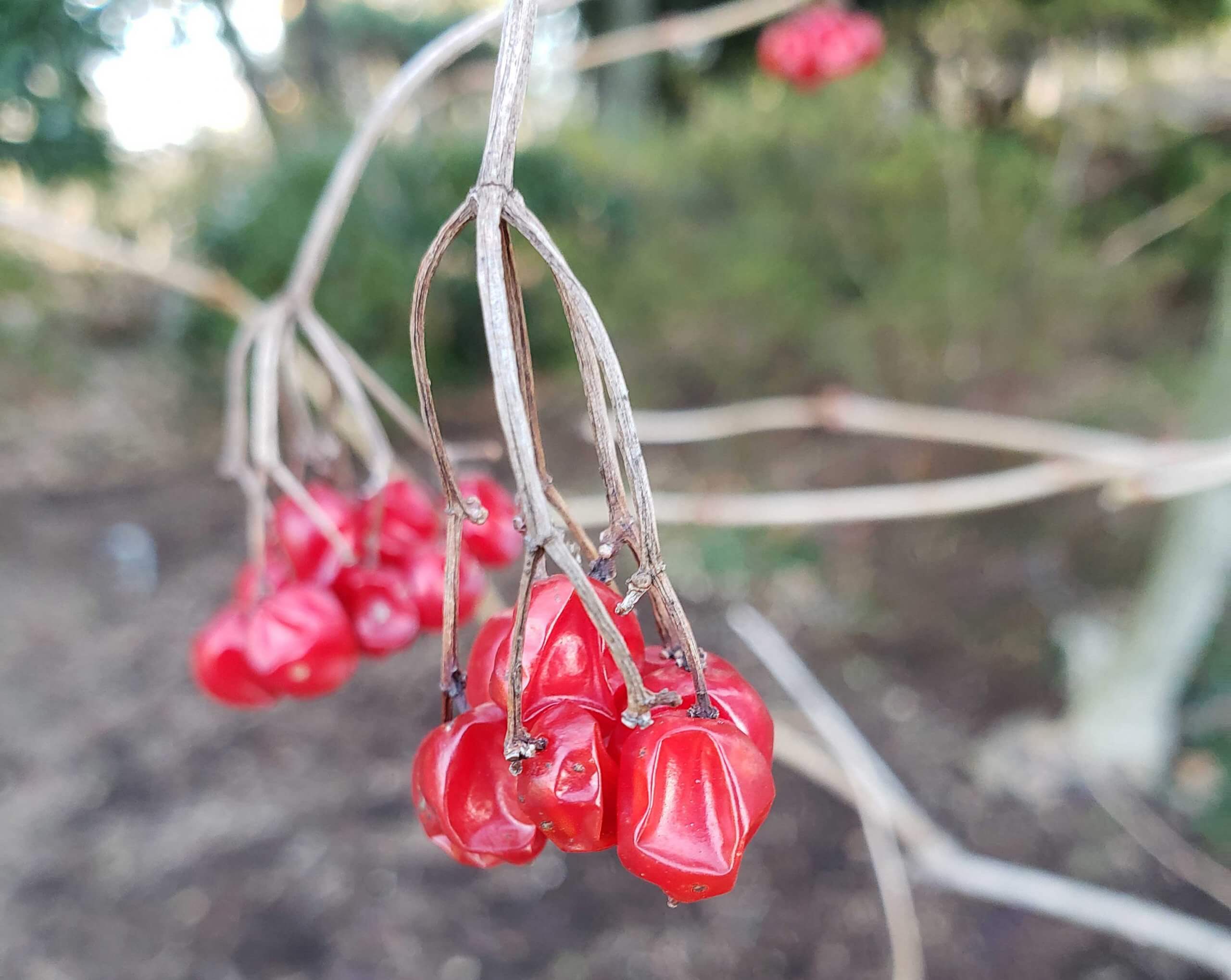 Uses
The American cranberrybush has been turned to as a source of food by wildlife and humans for centuries. It's a great species to plant in the yard if you are a keen birder. Hungry thrushes, cedar waxwings and other songbirds are particularly partial to the berries as winter sets in. Although be prepared to attract deer, raccoons, squirrels and even moose too.
It is also a popular plant within the landscape trade. It's dense, rounded shape perfect for creating hedgerows, windbreaks or just for screening. It's also a popular ornamental addition to gardens and parks. Although the most common species often selected is the non-native European Cranberrybush. It would be an ideal shrub to use as a dense wildlife border or hedge. Providing a supply of food for hungry visitors, who will hopefully be blocked or deterred from your yard.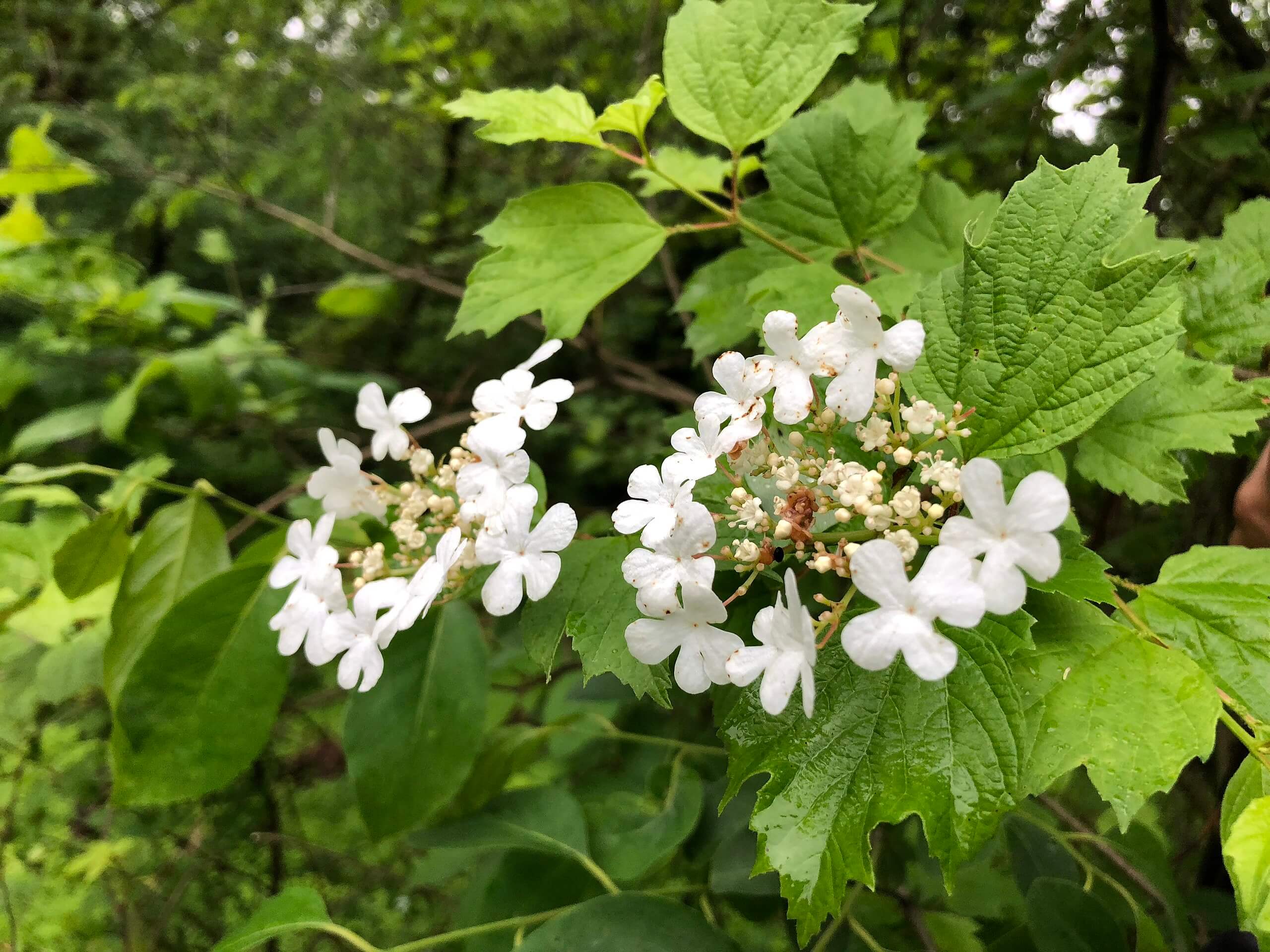 Eating and Foraging
As a vital source of food for wildlife, make sure not to over harvest bushes whilst out in the wild. Leave some for the local wildlife! Luckily the bushes when found are quite abundant, and each holds a great amount of berries so this shouldn't be too much of a problem. The berry flavor is generally sweeter just after a frost, so head out early in the morning to collect a few before the birds descend.
You can eat the berries raw, or you can cook and prepare them in much the same way as cranberries. From jams and sauces, to muffins and cookies. Many people have also tried to create wines and juices with them too. Like cranberries, their flavoring pairs exceptionally well with richly flavoured meats.
The berries are quite tiny, at roughly 12mm and with a fairly large seed inside. So you will need to collect a good haul of berries to create enough for jams or preserves.
As a precaution, whilst the berries are edible raw, it is advised not to eat large quantities. As they can cause stomach upsets in large amounts, particularly in children.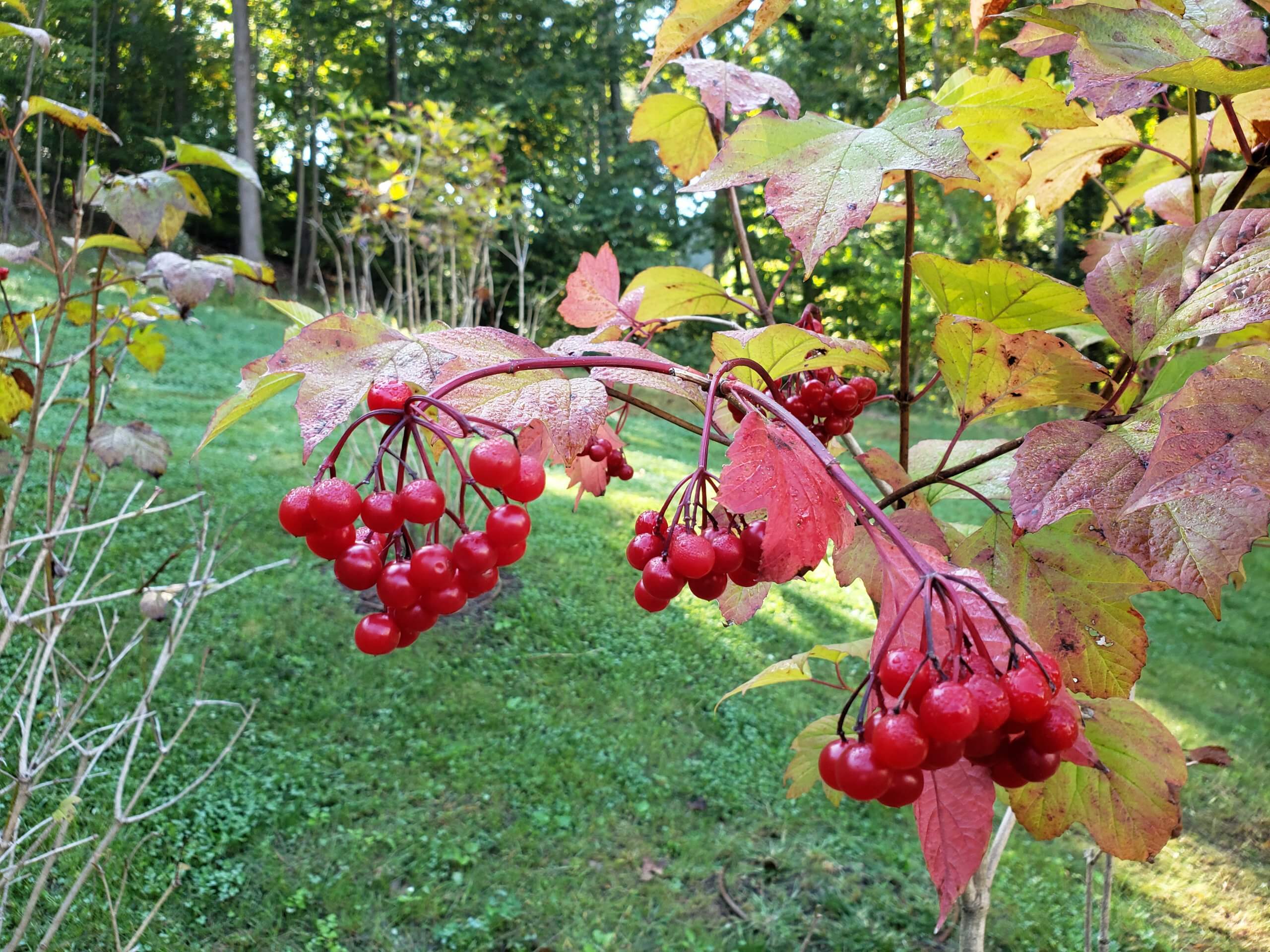 History
The edible berries were a common food supply for native Americans. Providing an essential supply of vitamin C in the colder months. They would be eaten raw or prepared into a variety of dishes. Paired with meats or cooked into small cakes.
As well as a source of food, the bush was often turned to for medicinal purposes. The bark and berries would be dried and crushed into different infusions. The bark even developing the common name of 'Cramp Bark'. It was used to treat ailments such as stomach cramps, muscle aches and even to reduce the possibility of miscarriage. Although great caution must be advised before using any form of medicine whilst pregnant.
Conclusion
With its showy white flowers on display in the spring, and fiery autumn hues, the American cranberrybush is a beautiful species. If you're hoping to attract native wildlife, particularly birds, it makes an excellent landscaping choice. It's also a wonderful shrub to stumble upon in the wild. Whether you're foraging for berries to make your own cranberrybush sauce, or just a light mid-walk snack.
—————
Written by Hannah Sweet
Hannah is a freelance writer and graphic designer from the UK. With a penchant for travelling, photography and all things botanical, she enjoys writing about a wealth of topics and issues, from conservation and slow living, to design and travel. Learn more about her writing and design services at www.sweetmeanders.co
Many of our readers find that subscribing to
Eat The Planet
is the best way to make sure they don't miss any of our valuable information about wild edibles.
Like our facebook page
for additional articles and updates.
Follow us on Twitter
@EatThePlanetOrg
See our privacy policy for more information about ads on this site