A message from EatThePlanet.org: "
We are happy you found us! We strive to be informative and accurate. Enjoy what you find here! Take a look at our new downloadable pdf eBook A Complete Guide To Foraging. We put a lot of work into this eBook and are very excited to share it with you.
" - Joe Forager(Owner)
---
Lemon balm (Melissa officinalis) is a perennial herb from the mint family. It's native to the Mediterranean region and Central Asia, but it has been also naturalized in Europe, Asia, and America. The most distinctive feature of lemon balm is its refreshing fragrance that's a mixture of citronella and mint. This plant typically grows up to 18" to 26" in height. In the summer, this plant produces small white or yellowish blossoms that attract honey bees.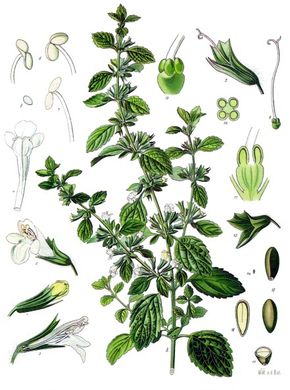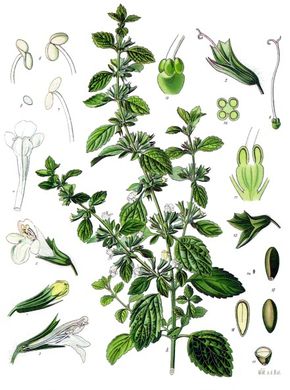 People have been cultivating lemon balm since ancient times as an all-purpose plant. It can be grown as an ornamental plant, used in honey production, used as an herb, and used for oil production. The Ancient Greeks and Romans had even used this plant as part of their culinary and medicinal tradition.
Edibility and culinary use
Lemon balm leaves are commonly dried and then brewed to make tea. The result is a tasty and relaxing herbal tea with hints of minty citrus flavor. This tisane has a mild sedative effect. As a result, it can help alleviate symptoms of anxiety and depression. It's also effective in aiding sleeping disorders and enhancing cognitive performances.
With its delicate citrus flavor, the leaves are also a great addition to many different dishes. They're great as a substitute for lemon zest or lemon peel. These leaves taste especially wonderful in beverages and sweet dishes like cakes, ice cream, sorbet, and fruit salads. The leaves can also be used to season soups, sauces, and marinades. The fresh tangy flavor pairs exceptionally well with chicken, beef, pork, and fish.
Health benefits
One of the most important compounds in lemon balm is called rosmarinic acid. This acid has potent antioxidant, antibacterial, and antiviral properties. Lemon balm also contains essential oils, such as citrol, citronellol, caryophyllene, and geraniol, which have antiviral, carminative (anti-gas), and antispasmodic properties.
All of these compounds make lemon balm a wonderfully potent medicinal herb. When applied topically, it can help heal insect bites and cold sores. This herb can also aid gastrointestinal problems, vomiting, heart problems, liver problems, high blood pressure, as well as relieve pain. This herb has even been shown to help reduce symptoms of Alzheimer's disease, ADHD, anxiety, and sleeping disorders.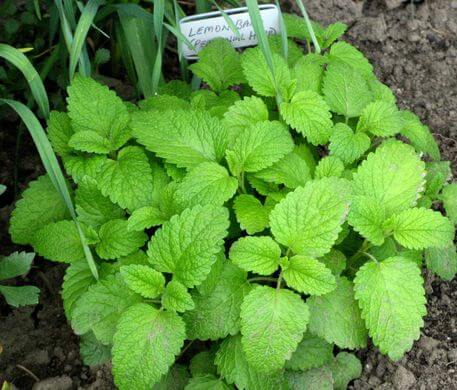 Cultivation
Lemon balm is a terrific addition to any garden. Aside from being an ornamental plant, it can also attract pollinators while also repelling bugs like mosquitoes. It's also a reliable source of medicinal and culinary herb.
Luckily, it's not hard to cultivate this plant. As a durable perennial plant, lemon balm will be able to thrive and stay in your garden from year to year. They grow in clumps and each bush will grow to around 3' high. This plant typically withers and dies at the start of the winter but will come back to live in the spring.
Ideally, you should cultivate this plant in a sunny spot with moist but well-drained soil. But, this herb can still tolerate poor soil conditions and partial shade. This herb is drought-resistant, but make sure to water it more often in particularly hot summer days.
Lemon balm leaves can be harvested at any time of the year, except in the winter. It's best to harvest them in a dry morning since this is when the oil concentration is the highest. You can pick the leaves with your hand or you can cut off some of the stems with a pair of gardening scissors. Try weekly stemming as this will encourage more vigorous growth.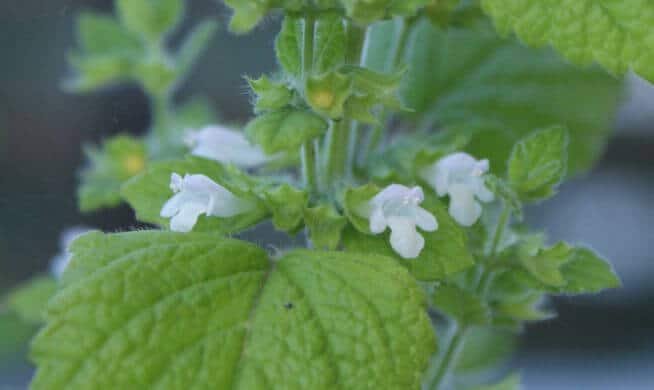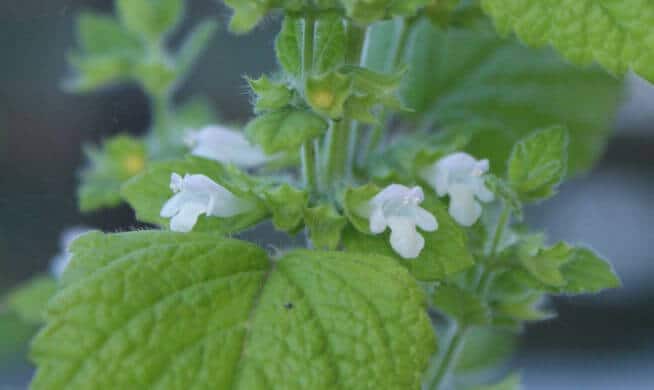 Cautions
Lemon balm might lower your blood sugar level, so avoid consumption if you're hypoglycemic. It might also cause excessive drowsiness when combined with certain medications. It's advisable to stop consuming this herb 2 weeks before surgery. Lastly, it may interfere with thyroid functions. Therefore, it's not recommended for those with thyroid problems.
Conclusion
Lemon balm is a traditional favorite in all sorts of gardens and it's not hard to see why. It is truly a wonderful plant. This historic plant has been cultivated all around the globe for millennia for its amazing culinary and medicinal uses. So, why not get some seeds and grow some lemon balm bushes in your garden?
---------------
Writen by Cornelia Tjandra
Cornelia is a freelance writer with a passion for bringing words to life and sharing useful information with the world. Her educational background in natural science and social issues has given her a broad base to approach various topics with ease. Learn more about her writing services on Upwork.com or contact her directly by email at cornelia.tjandra@gmail.com
Many of our readers find that subscribing to
Eat The Planet
is the best way to make sure they don't miss any of our valuable information about wild edibles.
Like our facebook page
for additional articles and updates.
Follow us on Twitter
@EatThePlanetOrg
See our privacy policy for more information about ads on this site