A message from EatThePlanet.org: "
We are happy you found us! We strive to be informative and accurate. Enjoy what you find here! Take a look at our new downloadable pdf eBook A Complete Guide To Foraging. We put a lot of work into this eBook and are very excited to share it with you.
" - Joe Forager(Owner)
---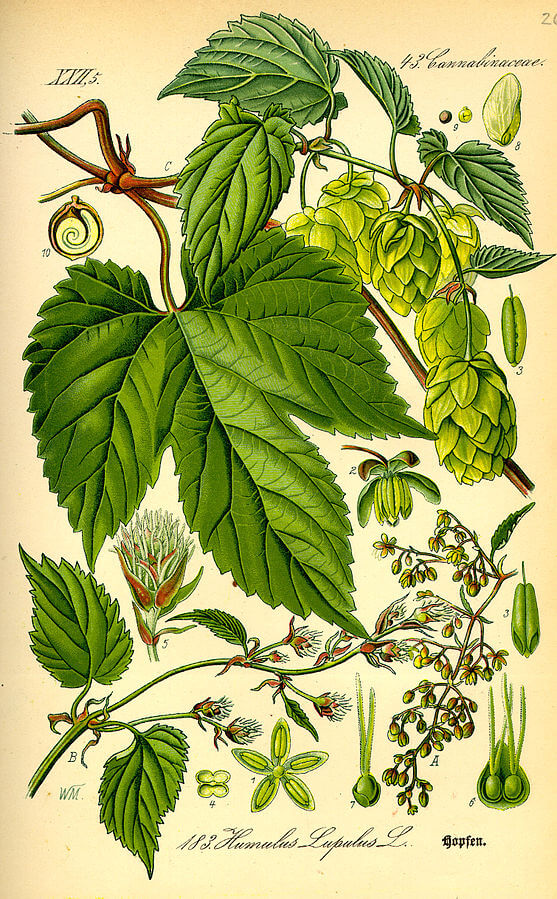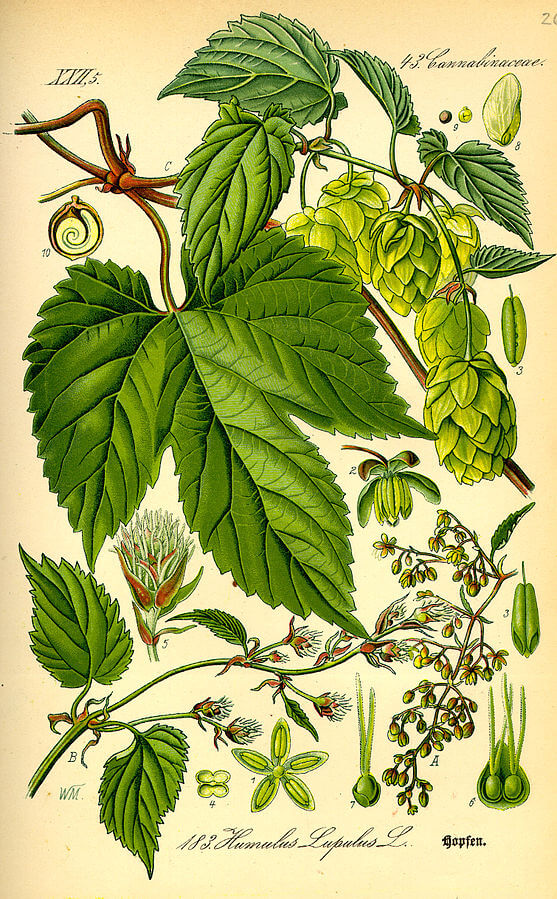 Beer enthusiasts must be familiar with this plant. Hops (Humulus lupulus) is commonly used in the beer-brewing industry. The name "hops" itself can refer to the plant as well as the female flowers from that plant. These flowers are essential for flavoring, preserving, and stabilizing beer.
Hops plant is a perennial twining vine that belongs to the hemp family. This plant is native to Europe, western Asia, and North America. Aside from being used as a food flavoring agent, hops also possess some medicinal properties.
Edibility and culinary use
As mentioned earlier, beer makers use the flower cones of this plant to flavor and stabilize beer. Aside from that, hop flower cones are never eaten by itself. They're usually used to infuse syrup, beverages, and cream sauces. Some people even make hops-flavored hard candies. These flowers can be brewed to make tisane as well.
For the plant itself, mature hops are rarely eaten due to their bitter taste and odd texture. But people often eat young hop leaves and shoots. They have a unique flavor that's reminiscent of asparagus or fiddleheads. Young leaves and shoots can be tossed in salads or cooked like other green vegetables. Much like hop flowers, hop leaves can also be brewed to make herbal tea. Hop leaves and shoots sprout each spring, but they have to be harvested immediately because they will harden under the sun. The younger the shoots are, the better they taste.
Health benefits
Hops contain vitamins B6, C, and E which work as antioxidants in our body. They're wonderful for fighting off free radicals, preventing cancer, boosting the immune system, and slowing down the body's aging process. Hops also contain essential oils which have therapeutic, anti-inflammatory, and antiseptic properties. Lastly, it also contains a flavonoid compound which has anti-inflammatory, antibacterial, antimicrobial, anti-tumor and anti-clotting properties.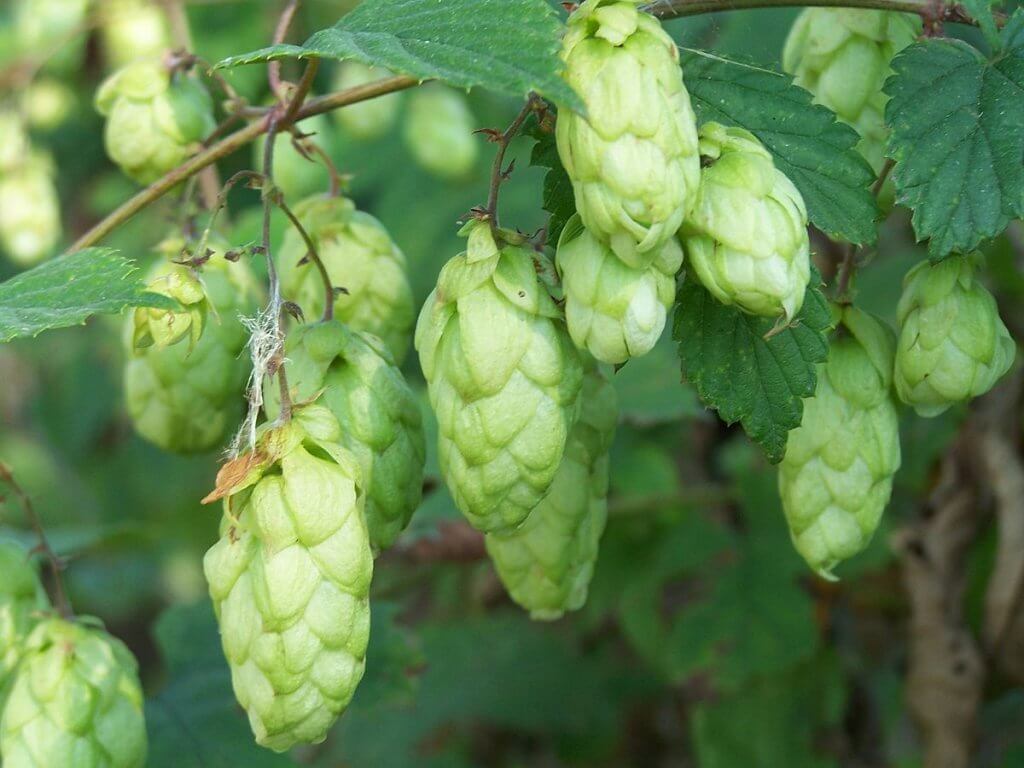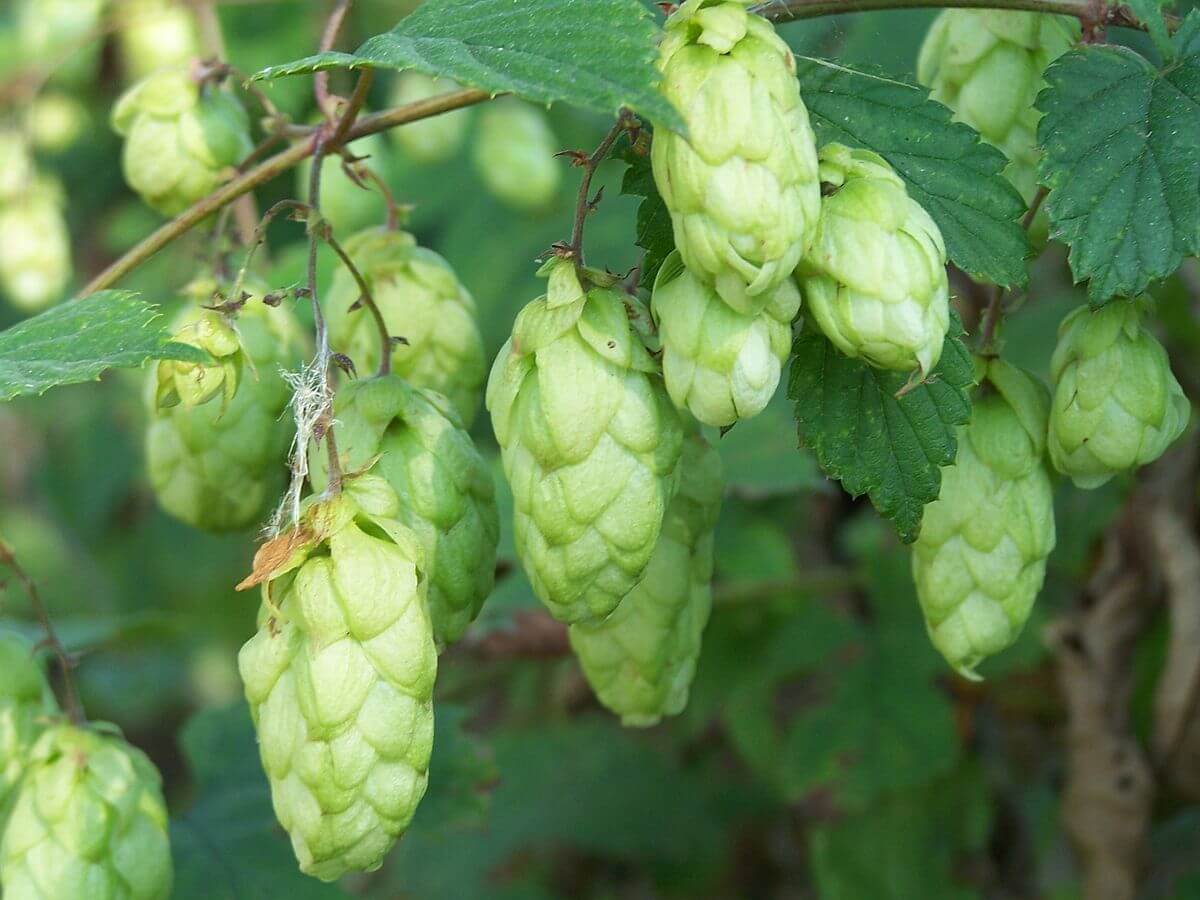 For medicinal uses, hop flowers and leaves are often brewed to make some calming and relaxing herbal tea. This herbal tea is great for relieving stress, anxiety, restlessness, nervousness, mental tension, irritability, and sleeping disorders such as insomnia. The flavonoid contained in hops is a phytoestrogen so it can help treat menopausal symptoms, especially hot flashes. Lastly, hops herbal tea can maintain cardiovascular health by relaxing blood vessels and improving blood circulation.
Cultivation
While you can always buy hops supplements from drug and health stores, growing your own hops would be far more beneficial. Growing this plant in your own garden allows you to harvest fresh young leaves and shoots each spring, which are rarely available commercially. If you're a home-brewer, you'll also find it very convenient to be able to harvest hop flowers easily. Luckily for you, hops aren't fussy and don't require a lot of maintenance.
First, buy hop rhizomes from the internet or from a local nursery in early spring. Then, store them in the fridge until late spring or early summer. Then, start preparing the planting area. Choose a sunny location with rich, loamy, and well-drained soil. Make sure there's plenty of room for the vines to grow as each plant can grow as high as 20" to 30" tall. Then, aerate the soil, pull out any weeds, and fertilize the area to ensure optimum growth. Lastly, make some soil mounds for planting the hop rhizomes. Note that the mounds should be 3' away from each other.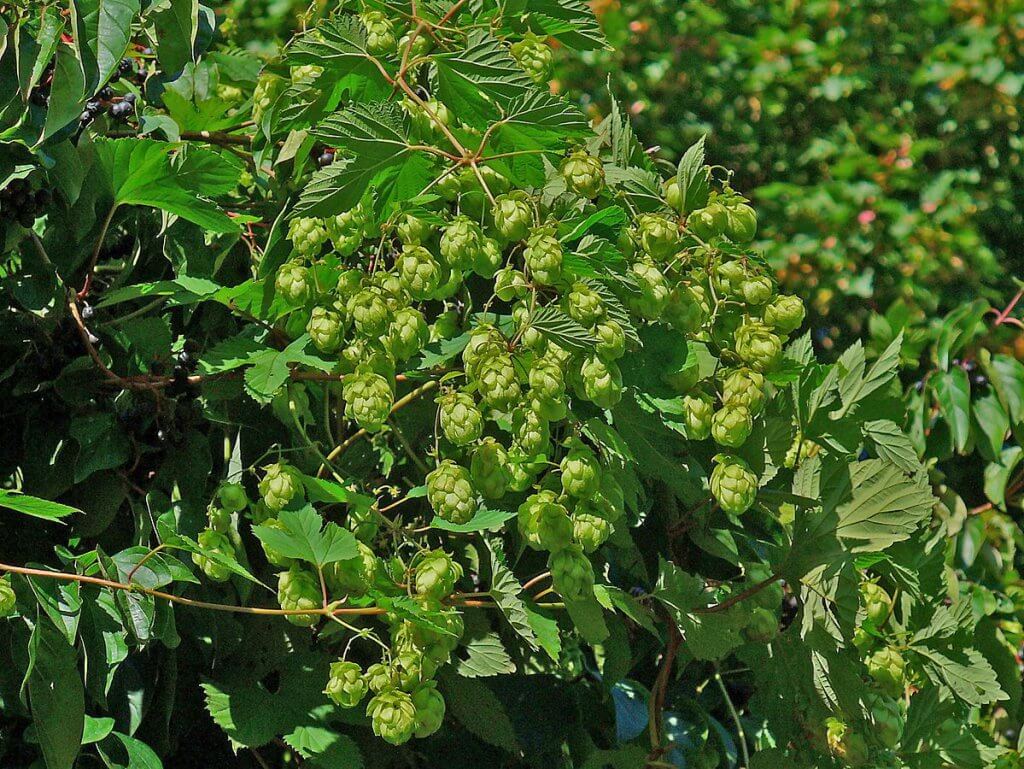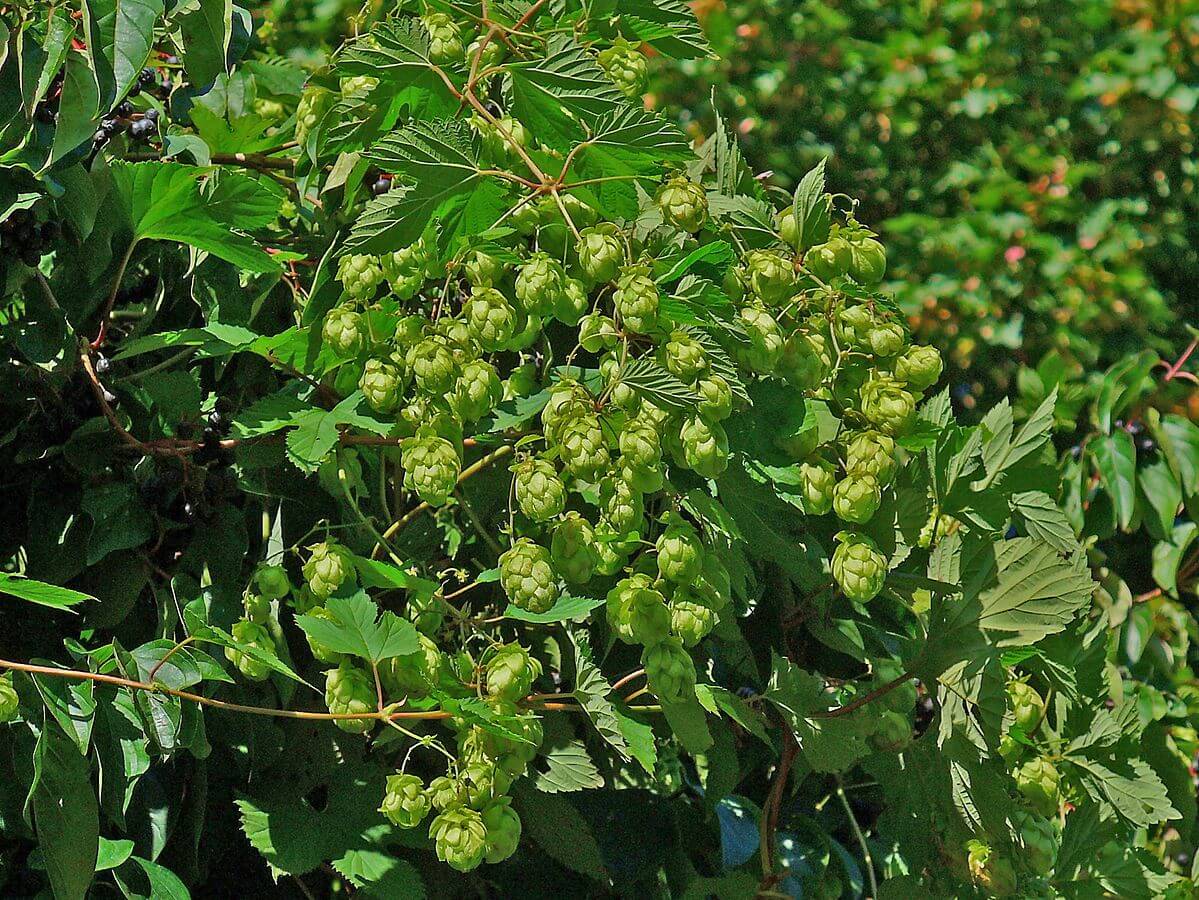 Plant the rhizomes 4" deep in each soil mound. Also, make sure the root side is facing downwards. Then, close the hole with soil and cover the mound with a light mulch. Water them often as hops love to be kept moist. Once the vines shoot up high enough, train them to coil around the trellis.
Hops can be harvested in late summer or early fall. The first year harvest may not yield much, but you should be able to harvest more hops in the second year. After harvesting, trim the vines to just about 3' above the ground, otherwise, the winter frost will kill them completely. Then cover them with a tarp for the entirety of winter. In the spring, revive them by uncovering the rhizomes, trimming the root, and replanting them.
Cautions
Always wear gloves when handling this plant. Skin contact with hops may cause dermatitis in people with sensitive skin. Be careful of stray away plant hair, they might irritate your eyes. Overconsumption it may cause minor side effects, such as upset stomach, vomiting, and diarrhea.
Due to its antispasmodic action, avoid consuming hops during pregnancy. Some chemicals in this herb may act like estrogen in the body. So, it's recommended to avoid this wild edible if you're suffering from breast, cervical, or uterine cancer.
Lastly, hops have a sedative effect. It's best to avoid it at least 2 weeks before a scheduled surgery. This sedative effect may also worsen depression. If you're suffering from clinical depression, contact your healthcare provider before consuming this herb.
Conclusion
Hops may be famous for being its use in beer brewing. However, it turns out this bitter herb has so many more benefits to offer. Studies have indicated that hops may be effective in treating and preventing a wide range of ailments, from stress and minor cold to cancer. Include hops in your daily diet and reap all its amazing benefits.
---------------
Writen by Cornelia Tjandra
Cornelia is a freelance writer with a passion for bringing words to life and sharing useful information with the world. Her educational background in natural science and social issues has given her a broad base to approach various topics with ease. Learn more about her writing services on Upwork.com or contact her directly by email at cornelia.tjandra@gmail.com
Many of our readers find that subscribing to
Eat The Planet
is the best way to make sure they don't miss any of our valuable information about wild edibles.
Like our facebook page
for additional articles and updates.
Follow us on Twitter
@EatThePlanetOrg
See our privacy policy for more information about ads on this site