A message from EatThePlanet.org: "
We are happy you found us! We strive to be informative and accurate. Enjoy what you find here! Take a look at our new downloadable pdf eBook A Complete Guide To Foraging. We put a lot of work into this eBook and are very excited to share it with you.
" - Joe Forager(Owner)
---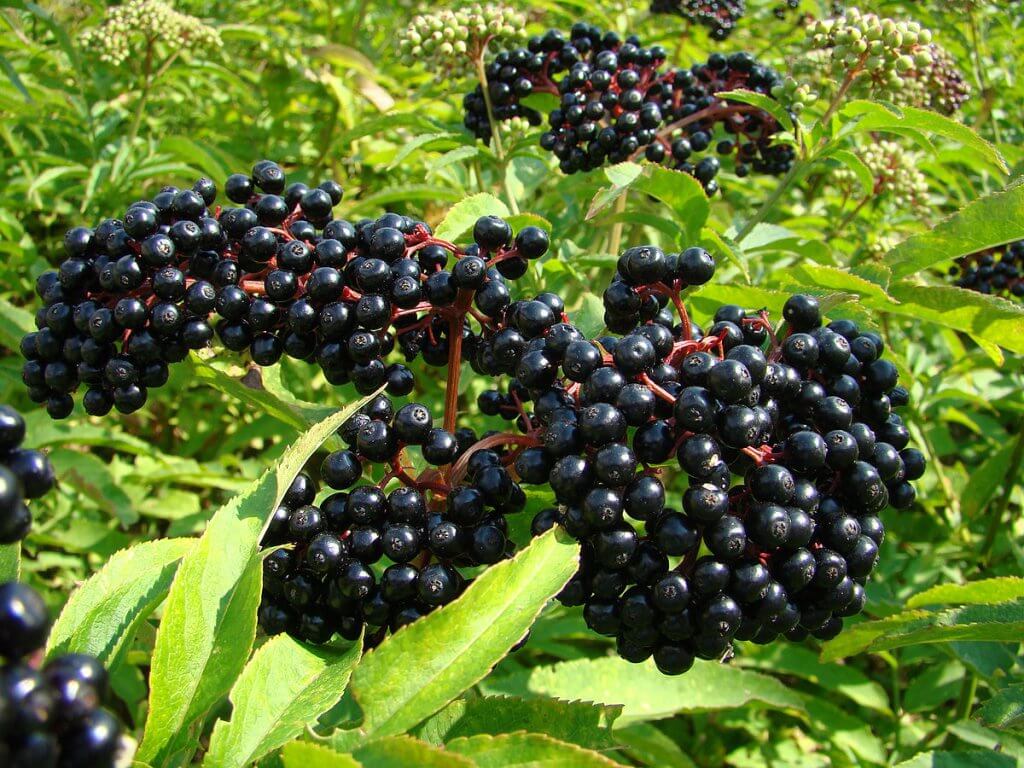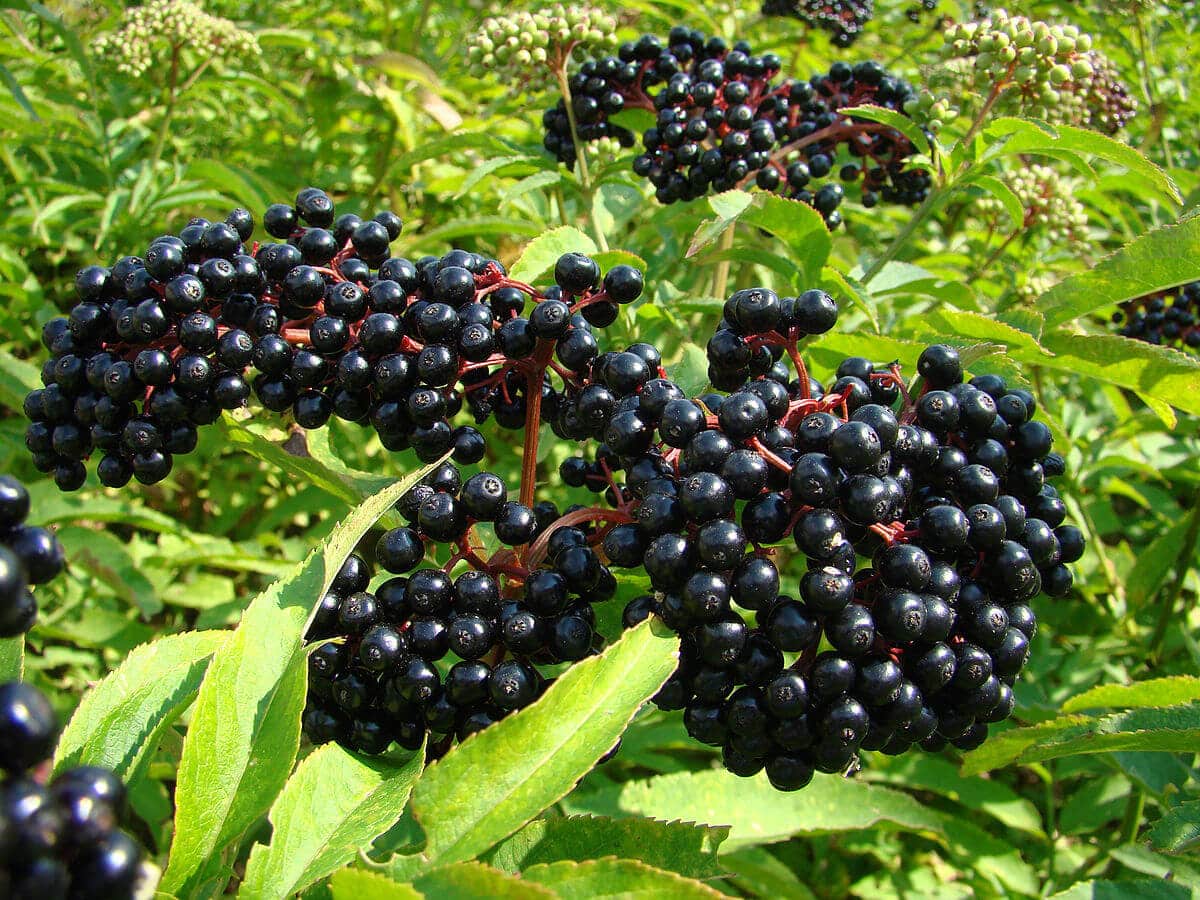 Elderberry (Sambucus canadensis), also known as American black elderberry or common elderberry, is a shrub that can easily be found throughout North America. It's known for its delicious, dark purple berries and lacy white flowers. Elderberries and elderflowers are famous for their culinary and medicinal uses.
Edibility and culinary use
Almost all parts of this plant are poisonous, except for its flowers and ripe berries. Elderflowers are delicate and fragrant with a slightly tart flavor. These white flowers are typically used as an edible garnish or to flavor desserts and beverages. Elderflowers can also be made into jelly or deep-fried to make fritters. Dried elderflowers can also be brewed to make medicinal herbal tea.
Much like elderflowers, elderberries taste tangy and tart, although stronger. These dark purple berries should never be eaten raw as it might cause stomach aches. Elderberries are usually made into jam, marmalade, pastry filling, juice, wine, tincture, and syrup. Elderberry tincture and syrup are often used for medicinal remedy.
Health benefits
Elderberry is packed with important nutrients. Both the berries and flowers are rich in vitamins A, B complex, and C. Those tiny berries even contain more vitamin C than oranges. They're high in dietary fiber which can promote a healthy digestive system. Elderberries and elderflowers also contain a lot of antioxidants like anthocyanins, flavonols, and phenolic acids. This means they're great for reducing oxidative stress in the body, preventing cancer or other chronic diseases, and reducing inflammations.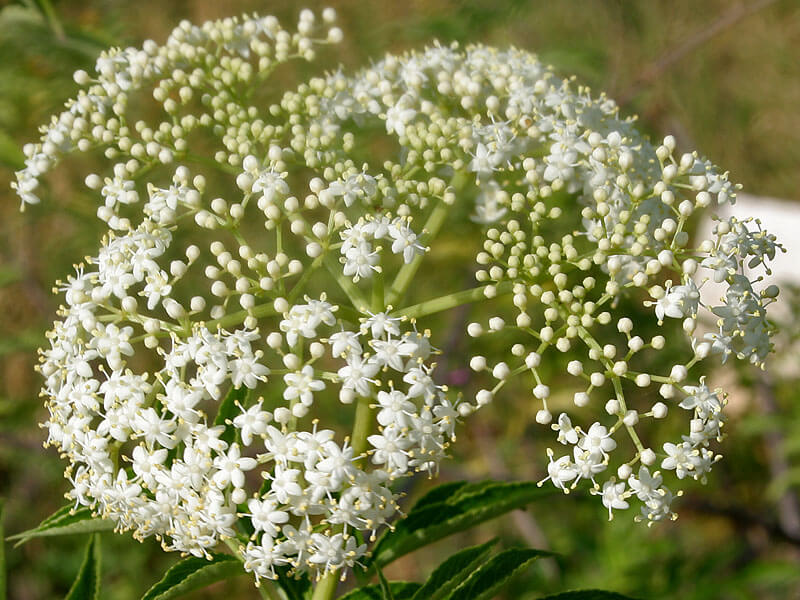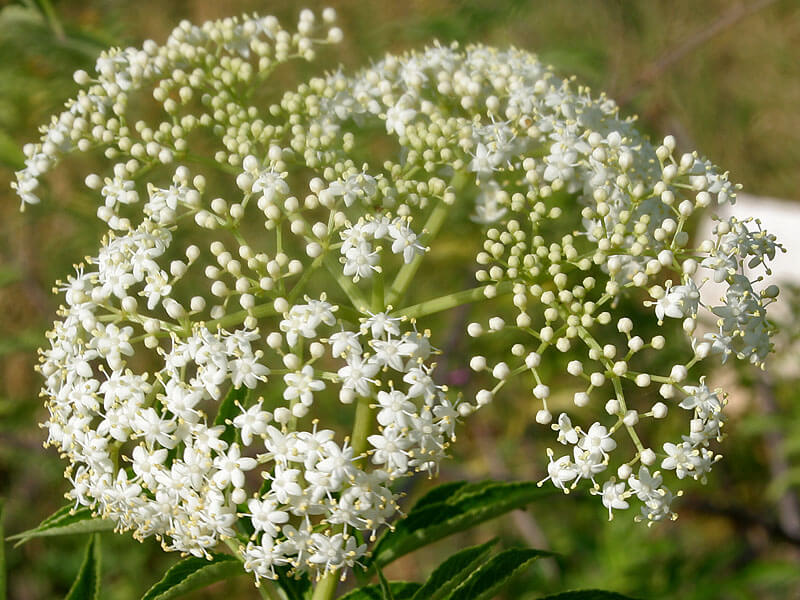 Elderflowers and elderberries are often used to treat and prevent cold. They're also great for alleviating cold symptoms, such as cough, nasal congestion, and fever. Elderberry is also said to be good for treating allergy and asthma symptoms. Additionally, elderberry has been found to stop bacteria growth while strengthening the immune system at the same time.
Its anti-inflammatory property also makes it great for alleviating pain, treating mouth and gum inflammation, reducing toothache, and treating digestive problems. What's more, elderberry can increase insulin production and help control blood sugar levels. Thus, it's a wonderful herb for those with diabetes. Then, consuming elderberry can improve cardiovascular health as it helps lower blood pressure, boost blood circulation, and reduce cholesterol levels.
You can also use elderberry extract topically. Since elderberry is rich in antioxidants and vitamins, it can work wonders for your skin and hair. Including elderberry in your daily skincare routine can help your skin look more radiant, reduce wrinkles, and prevent skin-aging symptoms. It can also protect your skin against minor UV damage as well as other distressing skin conditions, such as scars, breakouts, acne, and bruising. Lastly, elderberry oil is a wonderful hair-strengthening product. Applying it on your scalp can treat and reduce split ends as well as encourage hair growth
Cultivation
Elderberry is not very hard to cultivate. With some work and patience, you'll be able to grow some elderberry shrubs in your own garden. While it loves moist, fertile, and well-drained soil, this plant can tolerate almost every type of soil. But, it can't tolerate drought at all. So, be sure to water the plant regularly. Plant elderberry in a location with full sun for a better harvest.
Before planting, prepare the soil by incorporating manure or compost. Plant elderberry bushes in the spring, after the last frost date has passed. Plant each plant 6" to 10" apart, make sure the roots are well-covered. Water them once or twice a week to ensure they don't dry out. Get rid of surrounding weed regularly, especially when the shrubs are young.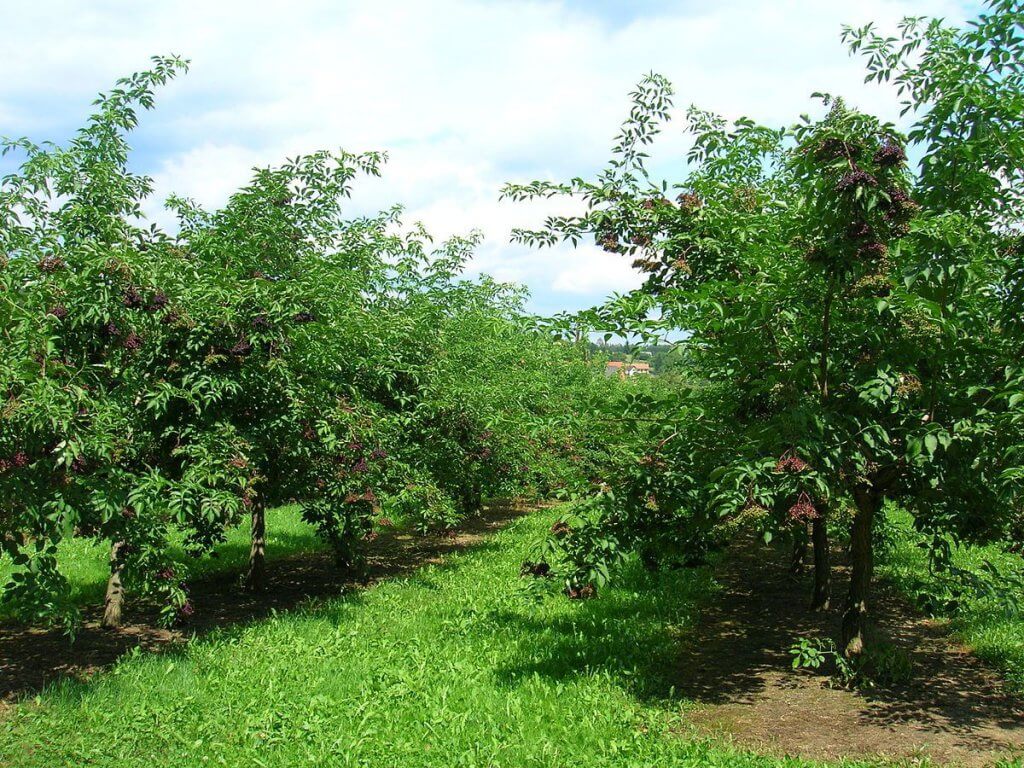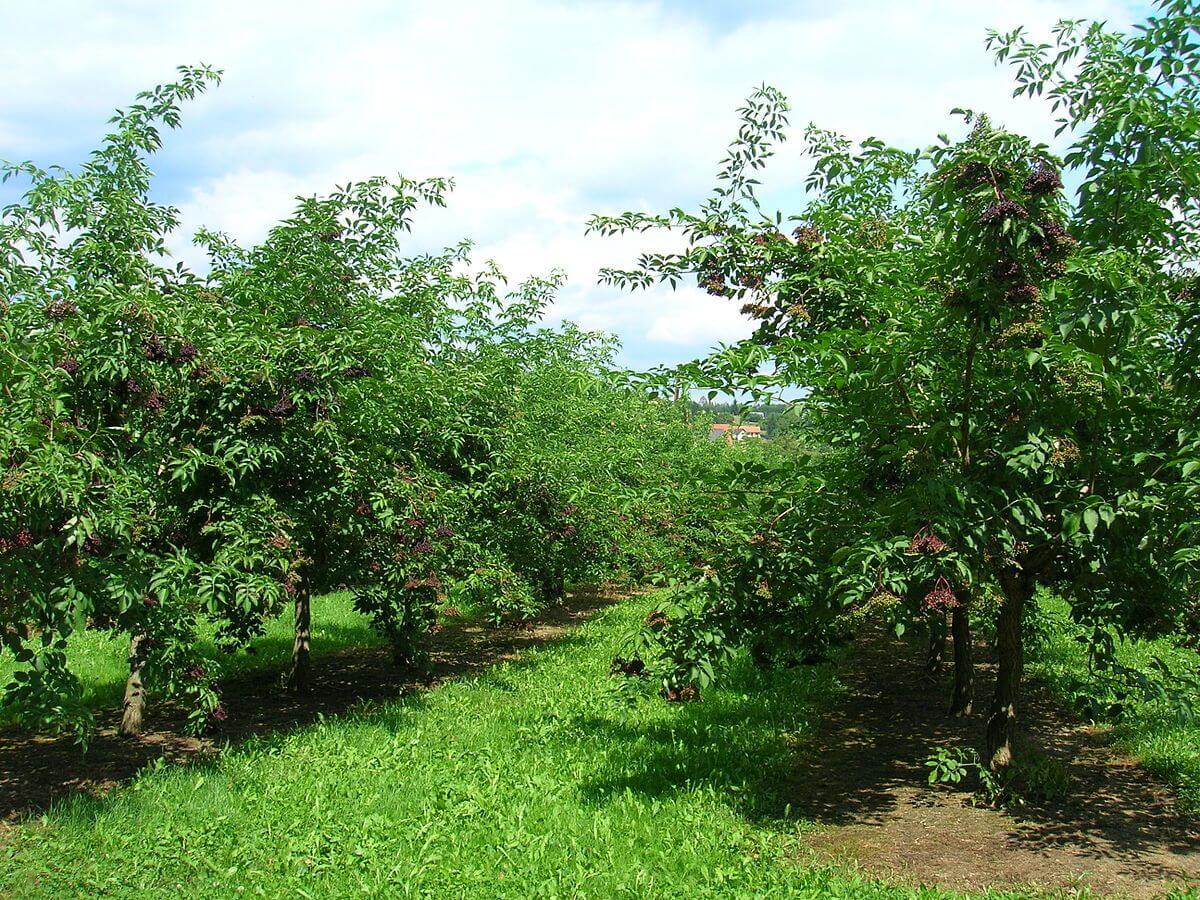 Let the shrubs grow wild for the first two years. Don't prune them or harvest the flowers and berries. This way, they'll grow nicely and produce a lot of berries. Then, starting from the third year, prune the shrubs each spring and remove all the dead areas. The berries will start to appear at the end of summer and they will ripen around mid-August to mid-September. Make sure to harvest them before the birds finish them off.
Cautions
Common elderberry leaves, stems, and roots are poisonous. Ripe elderberries are generally safe, but unripe elderberries contain toxins that can only be destroyed through cooking. Eating unripe or uncooked elderberries may result in nausea, vomiting, and diarrhea. Elderberry may cause the immune system to be more active, so people with autoimmune disorders should avoid consuming elderberry.
Also, be careful not to confuse elderberry shrubs with the toxic water hemlock. These plants look somewhat similar, moreover, they typically grow in the same area. Elderberry has opposing leaves while water hemlock has alternating leaves. Water hemlock doesn't grow berries, but they do grow flowers. Water hemlock flowers look similar to elderflowers, but they have a firecracker-like formation. Do not touch or ingest water hemlock flowers at all.
Conclusion
Elderberry can be a valuable source of food and herbal remedy if you know how to prepare it. This plant's tiny berries and dainty flowers definitely pack a punch when it comes to flavor. They're versatile and can be used in a lot of delicious recipes. And their health benefits are undoubtedly amazing as well. It's not a surprise to find that Native Americans have been using elderberries and elderflowers to make traditional herbal medicine.
---------------
Writen by Cornelia Tjandra
Cornelia is a freelance writer with a passion for bringing words to life and sharing useful information with the world. Her educational background in natural science and social issues has given her a broad base to approach various topics with ease. Learn more about her writing services on Upwork.com or contact her directly by email at cornelia.tjandra@gmail.com
Many of our readers find that subscribing to
Eat The Planet
is the best way to make sure they don't miss any of our valuable information about wild edibles.
Like our facebook page
for additional articles and updates.
Follow us on Twitter
@EatThePlanetOrg
See our privacy policy for more information about ads on this site