A message from EatThePlanet.org: "
We are happy you found us! We strive to be informative and accurate. Enjoy what you find here! Take a look at our new downloadable pdf eBook A Complete Guide To Foraging. We put a lot of work into this eBook and are very excited to share it with you.
" - Joe Forager(Owner)
---
Comfrey (Symphytum) is a shrub that can be found growing in Europe, North America, and parts of Asia. The comfrey family contains a variety of species and hybrids that have been widely used for culinary and herbal purposes. The species commonly called 'blackwort' has a particularly extensive history of being used as a herbal remedy. Comfrey is also part of the small family as borage, which has a similar structure and details.
It can reach a height of approximately 150cm, with long slender, hairy leaves and stems. The tubular flowers are deep purple, pink, and blue with some species occasionally having white petals. The roots have black skin which makes them particularly distinctive.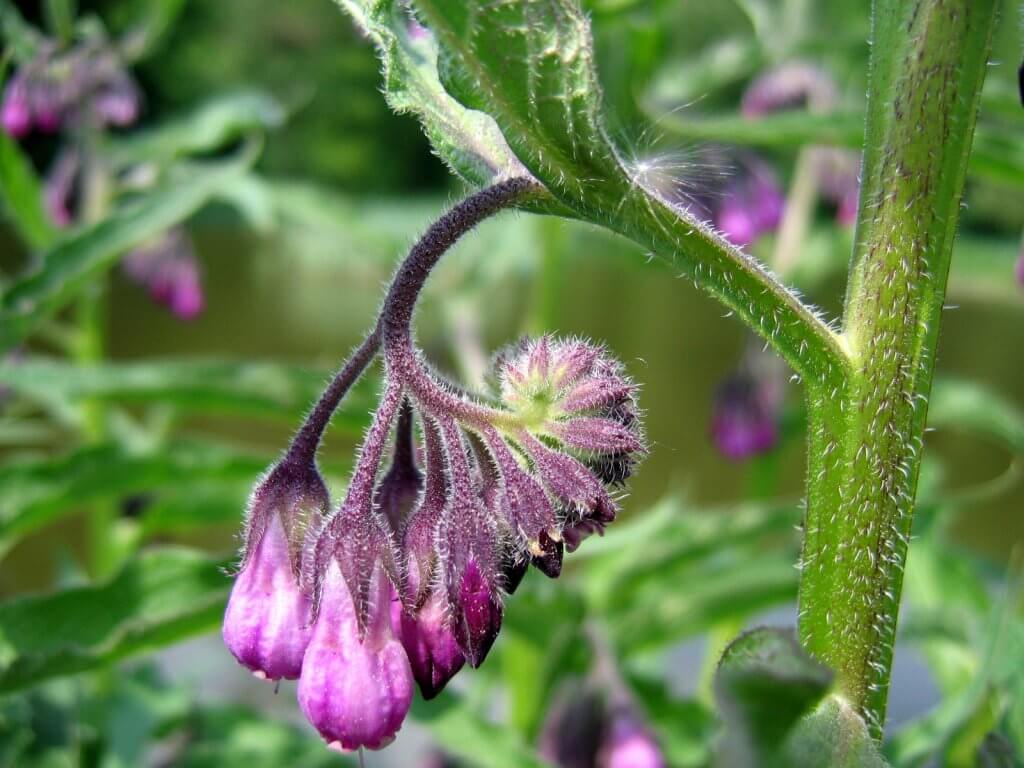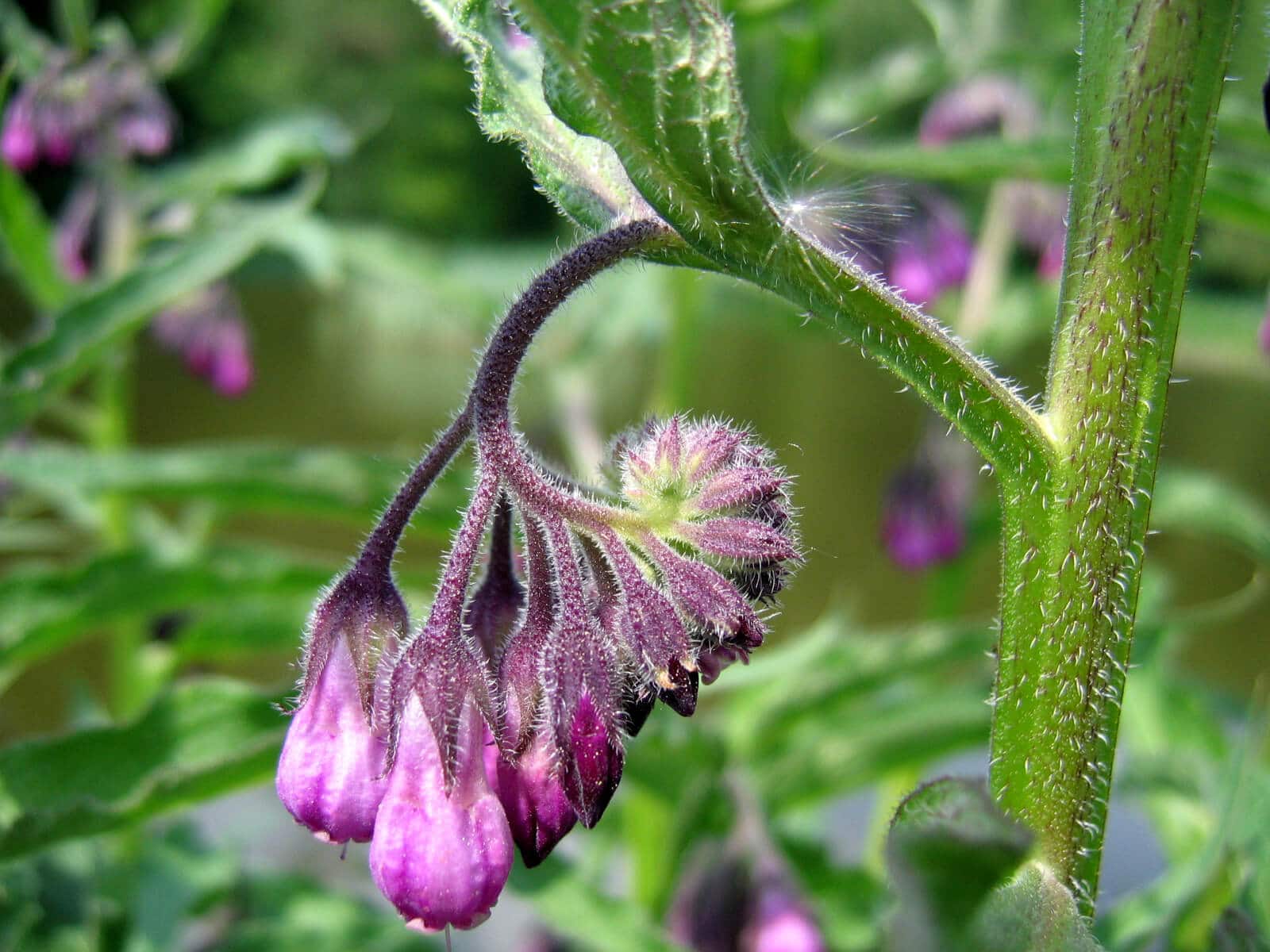 Cultivation and History of Comfrey
As a hardy perennial, you do not need to provide comfrey with a lot of care and attention for it to thrive. Planting in a spot with partial shade and any well-drained soil will be best. Throughout winter they die back and lie dormant, ready to return again with the arrival of spring.
Start the seeds indoors, or place them directly into the garden wherever you would like them to be situated. You will start to see growth within a few weeks as the plant grows quickly. The roots can be harvested at any time, but you may find that early winter is best.
Comfrey can be considered invasive due to its self-seeding nature, and the ability of its roots to form new plants. If planting in the garden, consider placing it in a container or well-contained herb garden.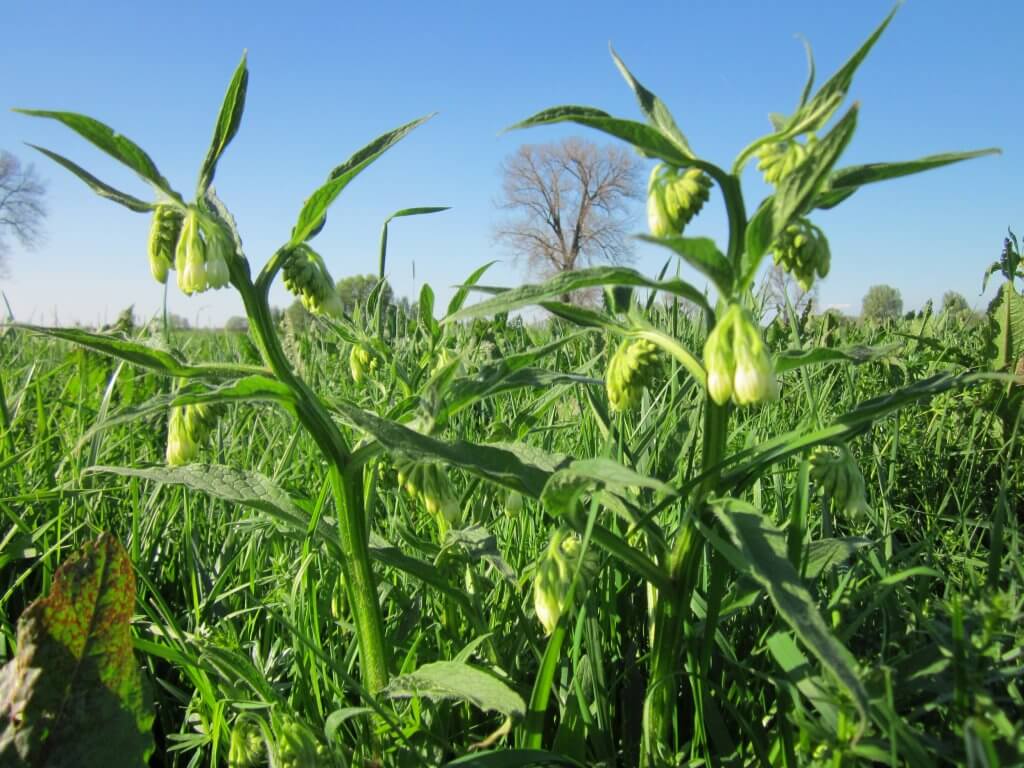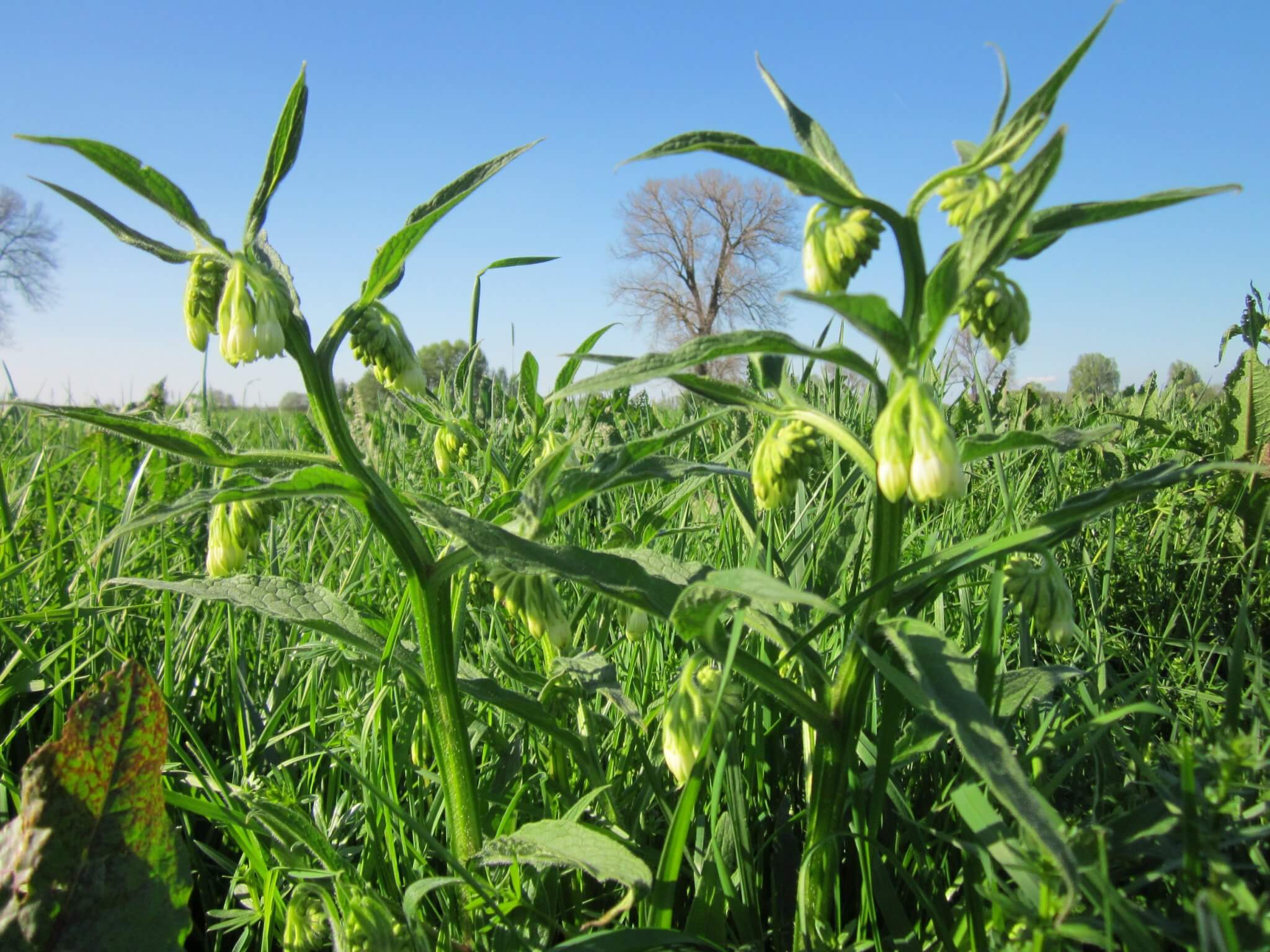 Toxicity & Cautions
Comfrey was once widely consumed as many herbalists believed it had curing abilities. However, it is now known that comfrey is not safe to consume. This is because it contains a number of chemicals and carcinogens that can cause cancer and liver and lung damage.
Topical treatments are accepted, but it is recommended that you greatly limit your usage. It is also important to never use topical treatments on broken skin. If you are pregnant, breast feeding, or suffer from liver damage it is best to avoid comfrey completely.
In spring, young comfrey leaves can be mistaken for the poisonous foxglove, so care should be taken if foraging for comfrey for topical medicinal purposes.
Uses
Culinary uses of Comfrey
There is a history of some cultures consuming comfrey leaves and roots as vegetables, and using the leaves in teas. However with modern research, it is now clear that comfrey is not safe to consume.
Medicinal uses of Comfrey
Comfrey has been collected and used in traditional Japanese medicine for thousands of years. It was believed to aid in relieving burns, bruises, inflammation of the joints and also sprains. European folk medicine also used the plant to treat conditions like gout and arthritis. The leaves and roots were boiled to create tea infusions and and ointments which were drank or applied directly to the skin.
Their is a substance found in comfrey called 'allantoin' which can promote the growth of new skin cells.
After research, scientists concluded that comfrey was not safe to consume, so you will now only find topical herbal products that contain comfrey. These joint pain ointments and creams should only be applied to the skin without open wounds and sores.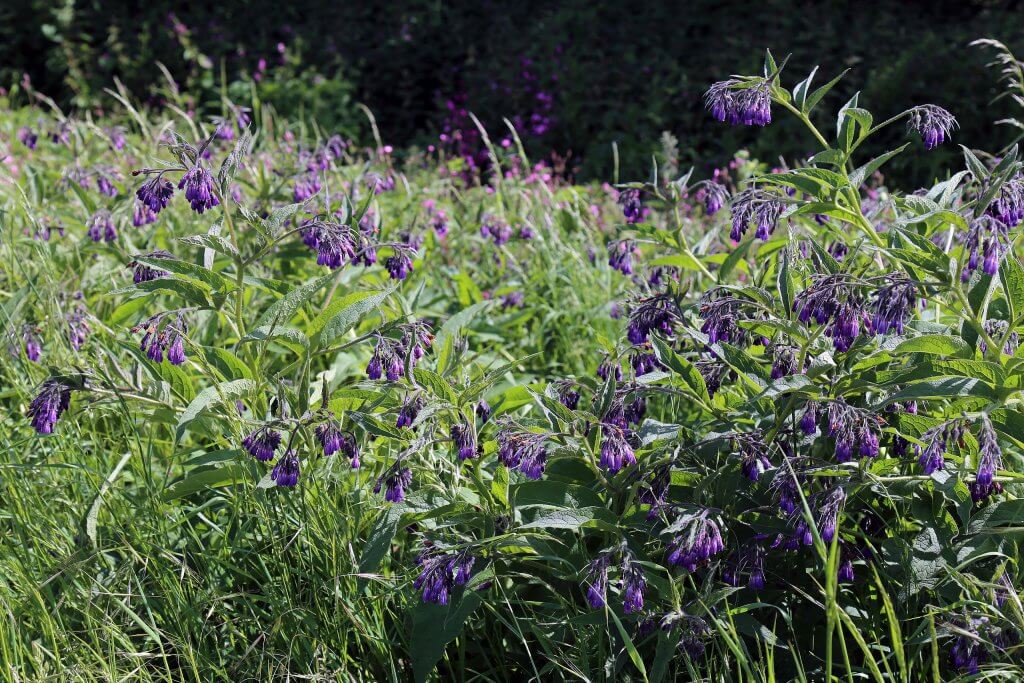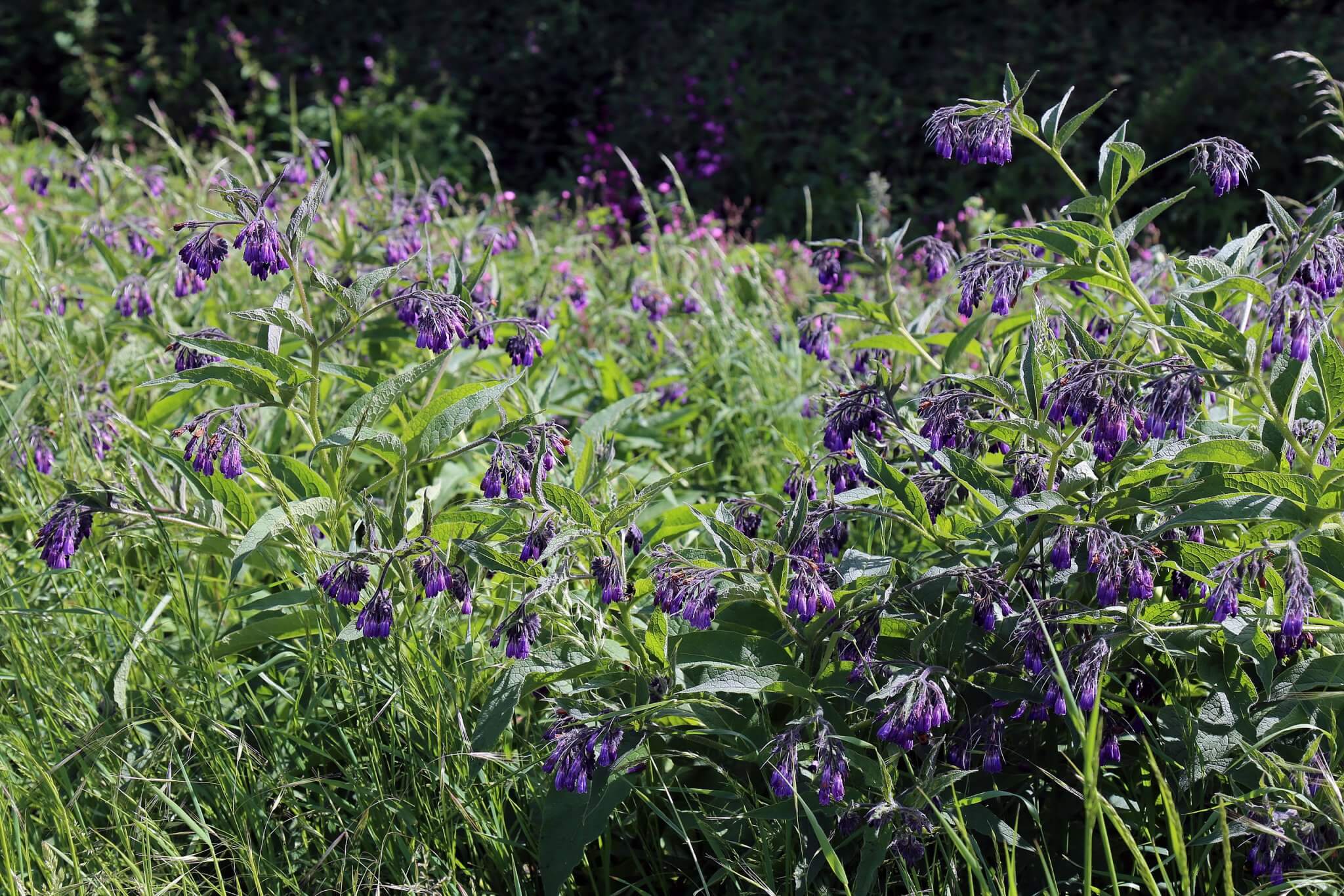 Did you know…
Comfrey can make an excellent mulch and fertilizer as the leaves are mineral and nutrient-rich. It can still be found today being used as animal fodder.
Conclusion
To conclude, comfrey is an attractive plant that you may consider growing for its ornamental beauty. Care must be taken when using the plant in any topical herbal remedies that you concoct. It can make an excellent companion plant for other plants within your garden. For example, tomatoes and potatoes can obtain more nutrients from the soil as comfrey deep-set comfrey roots can bring more nutrients to the surface.
—————
Written by Hannah Sweet
Hannah is a freelance writer and graphic designer from the UK. With a penchant for travelling, photography and all things botanical, she enjoys writing about a wealth of topics and issues, from conservation and slow living, to design and travel. Learn more about her writing and design services at www.sweetmeanders.co
Many of our readers find that subscribing to
Eat The Planet
is the best way to make sure they don't miss any of our valuable information about wild edibles.
Like our facebook page
for additional articles and updates.
Follow us on Twitter
@EatThePlanetOrg
See our privacy policy for more information about ads on this site