A message from EatThePlanet.org: "
We are happy you found us! We strive to be informative and accurate. Enjoy what you find here! Take a look at our new downloadable pdf eBook A Complete Guide To Foraging. We put a lot of work into this eBook and are very excited to share it with you.
" - Joe Forager(Owner)
---
Puffball mushrooms are named because of the brown dusty spores that are ejected when the ripe fruit body bursts or gets hit. The puffballs belong to the Basidiomycota Division and include several genera, including Calvatia, Calbovista and Lycoperdon. When foraging, identifying true puffballs is extremely important because there are some lethally toxic look a likes. The good news is that identifying true puffballs is a simple task if you follow one rule. The rule is that true puffballs are pure white on the inside with absolutely no coloration or markings, especially not gill markings resembling other mushrooms. Follow this rule and you will be harvesting true puffballs. You can read more in our article about puffball mushrooms.
Puffball mushrooms are available from late summer to fall. Different species of puffballs mushrooms grow in many parts of the world. Giant puffball(Calvatia gigantea) are a great choice for this recipe, they grow in temperate regions of the US. They appear on fields and lawns. Some smaller species form circles of puffball mushrooms called fairy rings. Some of these rings in the United States are over 400 years old. As they mature, puffball mushrooms open or open due to natural forces and can release millions of spores.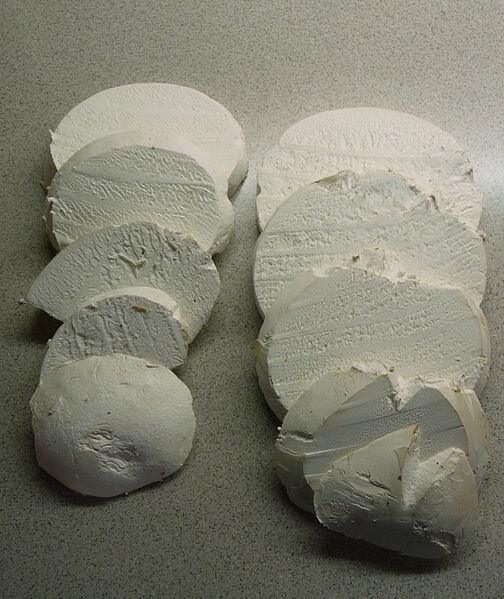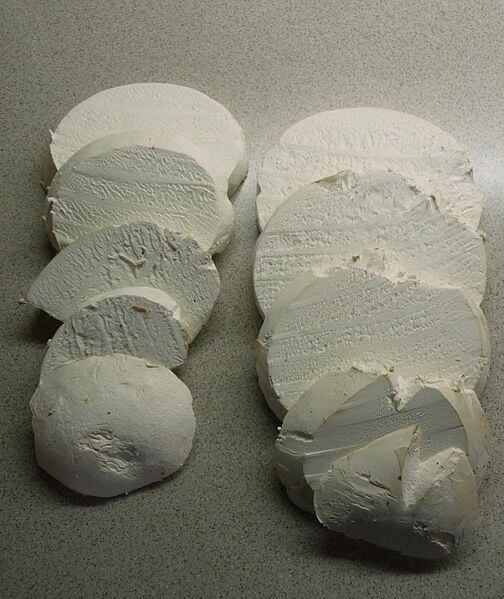 Health benefit
The nutritional and health benefits of this food are not adequately studied. However, there is an important health benefit to eating mushrooms in the genus Calvatia. A chemical called calvacine was found in some of these species. Calvacine is currently being studied as an effective anticancer drug because of its antitumor effect. The trials are ongoing and no significant progress has been made, but they prevent tumors when taken regularly.
Ingredients
10 slices white bread or replace with non-seasoned breadcrumbs
1 tablespoon minced fresh thyme leaves
1 teaspoon finely grated lemon zest
3/4 teaspoon kosher salt
Freshly ground black pepper
1 cup flour, for dredging
2 large eggs, beaten
1 large puffball mushroom or 2 1/2 cups of smaller ones.
1/2 cup coconut oil, for shallow frying
Method
1. Preheat oven to 350 degrees F.
2. How to Make Breadcrumbs: Cut off the bread crust, throw it away, shred it into pieces. Spread the bread in a microwaveable bowl and microwave for 1 minute with HIGH power to dry the bread. Pulse the dried bread or crumbs in a food processor with thyme, lemon zest, 3/4 tsp. salt and pepper.
3. Cut the mushrooms in slices or just keep the ball shape for small puffballs . Separate flour, eggs and breadcrumbs into 3 flat dishes. Lightly season the mushrooms with salt and pepper. Dip each mushrooms pieces into the flour and shake off the excess. Then put the mushrooms prices into the egg to cover it a little and hold the mushrooms on the liquid so that the excess falls back into the bowl. Finally, add the mushrooms pieces to the bread crumbs, turn it over and press the bread crumbs on it. Insert a piece of wax paper.
4. Heat a large pan (12 inches in diameter) over medium heat. Add the oil. Place mushrooms pieces in the pan. Cook the mushrooms pieces without turning it until it turns brown (about 2 minutes). Turn the mushrooms pieces and cook on the other side till golden brown, about 2 minutes longer. Repeat with the remaining mushroom pieces . When they are cooked to your liking. Remove from the pan and serve or store in the refrigerator for later.
Many of our readers find that subscribing to
Eat The Planet
is the best way to make sure they don't miss any of our valuable information about wild edibles.
Like our facebook page
for additional articles and updates.
Follow us on Twitter
@EatThePlanetOrg
See our privacy policy for more information about ads on this site